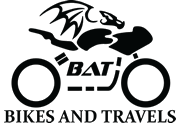 Home
Contribute
Contact BAT
Chit-Chat
BAT Facebook Page
BAT Stickers!
Ren's Biking Blog
Sharon's Biking Blog
Guest Posts
Bike Reviews
Bike Gear Reviews
Bike Tips
Travel Stories
Travel Tips
Repair And Restoration
Interesting Links
Support BAT
Calculators And Converters
Welcome To Bikes And Travels...
...It's about bikes...and travels...mostly on bikes!
Sharon might be packing a pistol to shoot Ren with...
What's New?
Benelli TnT125 Owner's Review Nigel brings to life Benelli's small, stylish and rather curious TnT125. Teenagers may love it but what about a septuagenarian?
---
Riding To Find Something Lost Sharon is in reflective mood pondering just how much motorcycling has changed her life.
---
In Honour Of Stop n Tail Bulb Ren is mourning the loss of a long standing and reliable friend. It's a bulb. A tailight bulb. For goodness sake.
---
Blink Of An Eye Sharon has an interesting day poking around north west Spain. There's a something of a shock in store for the evening.
---
Time For New Tyres Latchy's been busy fitting new rubber to the Striple. It's a dirty job but someone's got to do it. Awwww bless.
---
Dam Lost Fearing the weather Sharon is braced for a drenching. Thing is the weather isn't really the problem.
---
Sharon's First Test Ride Ren's having a flap because Sharon is doing something that many many motorcyclists do.
---
Errrrrm - Devon? There's another minor adventure afoot! The Americas? The Far East? Africa? No, the clue is in the title.
---
Final Thoughts On Spain Ren crosses the T's and dots the I's on the Spanish trip.
---
The Ferry Home It's the dynamic muppet's last day in Spain so it's time to catch the ferry. A mixture of sadness and relief for Ren, but what about the other riders in the queue?
---
Latest Posts
Yamaha MT03 (2016) Test Ride Review MP said :-
Thank you.
The power is more than enough for first bike but not scary. Because is new until 1000 km I only reach 6000 rpm and goes pretty fast. Excellent suspension, easy handling, plus gear indicator.
But (oh yes there is a but) in the city I prefer my burgman 200.mt03 I have it only for weekend to go for a country ride. Open highway roads. 100 120 km/h I enjoy her.
Ride safe everybody.
20/09/2018 16:15:15 UTC
---
Blink Of An Eye David said :-
My absolute sincerest condolences, I shed a tear myself....
20/09/2018 15:40:54 UTC
---
Blink Of An Eye Ian Soady said :-
Hi Tom. I agree with much of what you say. However, the problem it seems to me is not wealth itself but its distribution. When the richest 1% of people in the world "own" the same as the poorest 99% there's something wrong.

When the people who caused the crash of 2008 walk away with millions while the poorest in our society are savaged by "austerity" it's a scandal to my mind. Let alone the savage cuts to our NHS, local authorities, police etc etc. It's no good grumbling about potholes when some local authorities are actually going bankrupt and many more are only just able to meet their statutory requirements.

According to the standardised data of the OECD, the UK is Europe's most unequal country in terms of disposable income (apart from Estonia). Britain is also the most unequal English-speaking country within the OECD, except the United States. But in terms of absolute wealth per person the UK ranks 4th in the world after Switzerland, Australia and the United States.

This is not the "politics of envy". I am quite reasonably off having made lucky choices throughout my life and in fact would gladly pay more in tax. I don't want those fat cats' money - I want it to be used to take the more than 1 in 4 children in this country out of poverty.

Whatever your views of their parents - and most are in fact working and struggling to keep afloat - why should their children be penalised? Especially whilst public schools are exempt from VAT and are registered charities so receive many more benefits - all so that the children of the already wealthy can further consolidate their already privileged positions.

Anyway, this is all supposed to be about bikes and travels......
20/09/2018 14:05:35 UTC
---
Blink Of An Eye Tom McQ said :-
Equality? It's never happened before and it's very unlikely to happen in the future.

We see people in the UK sleeping rough, looking unwell, hungry. We see families living off benefits. We see people abroad with nothing on their feet, holding out their hands begging for pennies from cash-rich tourists. We see videos of disabled people toiling away in terrible conditions doing the sort of manual labour that us lot are sure would kill us! It's routine for them.

I often (VERY OFTEN) look at less fortunate people and feel so bad for them and I thank an imaginary God that I was blessed with something that they weren't - OPPORTUNITIES!

Because that's what it comes down to ultimately. If you were born in The Sudan or Niger, for example, it wouldn't matter how bright or hard working you were, there would be virtually no opportunities for you to make changes to your life. Each and every day would be a struggle just to find enough food, to find enough clean water, to survive!!

I thank my imaginary God that I wasn't born in those places. I thank my imaginary God that I was born right here in Bolton, UK. I'm thankful that I had access to all the opportunities that our country offers to its residents. How shocking would it be to waste those opportunities that are denied to so many??

Needless to say, not everyone is ABLE to take advantage of the opportunities around them. Some people have mental and physical disabilities which prevent them from making the most of things. And some people are just not clever enough to be able to progress from basic living conditions to something more comfortable and enjoyable. It's a fact of life that for every Einstein born, there's also someone at the other end of the scale. They need our help and support. And I would happily pay more tax to help them.

But I would not pay a single penny (if I could help it) to those who want everything but who don't want to work for it.

I had a rough upbringing full of toil and trouble. My Dad died when he was 27, my step-father was a work-shy aggressive drunk who beat up my poor Mum every weekend, my Grandad abused me, I had a terrible diet, I was dirty, scared and I had ZERO confidence, I wagged school all the time because I was bullied due to having only part-uniform, I even attempted to take my life once.

But as I became an adult, I could see opportunities. Small opportunities at first, but I was determined to take advantage of them and improve my life. I worked hard all my life - put lots of hours in and always tried to move forwards towards something better for me and my family.

I was no brainbox - I was virtually uneducated! But I wanted more than the shit life I'd had so far, so I worked to improve my lot. And over the years life got better and better (with a few hiccups along the way).

Move on 40 years and I'm as happy as Larry! I am happy with my lot and I DO NOT resent anyone who has more than me. I know people who have nothing in their bank and I know people who have £24M in the bank. I judge them PURELY on their personality and their nature. They could very easily be equal as far as I'm concerned.

A friend of mine hasn't got two halfpennies to rub together - while my other friend has a Bentley GT. Does my rich friend offend me?? Hell no! Am I envious of his wealth? Hell no! He came from nothing and has worked his nuts off and created wealth and created jobs for people along the way. The rich guy and the poor guy were both born in Lancashire in the 50's, they were both poorly educated and they both had opportunities and choices to make.

Some people are SURROUNDED by opportunities to improve their life and that of their family, but choose to do nothing to take advantage of them. No use working 20 hours a week and whinging about being skint! Some people want to keep their simple, stress-free, enjoyable job with no responsibilities or decisions to make, whilst being on the same salary as the bloke who's the head of Amazon!!

Whenever I felt that I wasn't where I wanted to be in life, I looked at others around me and realised that I was relatively wealthy. I have always been rich in good health and mobility for a start! My work ethic has always been good. I've been rich in determination and I've always been a bit of a do-er instead of a talker.

If you are offended by wealth, then maybe you should consider the FACT that only wealthy countries are able to support the needy. They're able to provide housing, benefits, hospitals, schools, libraries, employment training, mobility to disabled people, public transport, defence, infrastructure, growth and investment in technology etc, etc, etc. Sure, the world recession has had an impact on these things, but for many countries NONE of these things even exist!

So, should the self-employed young man outside cleaning the windows be on the same money as me? Err no! Should he resent me or the fact that I've got a nice house, 2 cars and a motorbike? No! Hopefully, he'll continue to work hard and seize any opportunities that come his way. Or maybe he values TIME more than money and is happy and content being able to live a stress-free, laid back life as long as he's got food on the table, a roof over his head and some good friends.

The truly best way to help the poor, is not to become one of them.


20/09/2018 10:45:47 UTC
---
Blink Of An Eye Tom McQ said :-
Sad news indeed Sharon. My condolences to your family and Kevin's family and friends. Further proof that life is short and we need to do everything we possibly can in order to make our life a happy one. No point waiting for someone else to act on your behalf - it's all down to you. Sounds like Kevin and your sister were doing whatever they could to make their life better and happier. So sad :-(

20/09/2018 09:04:49 UTC
---
Benelli TnT125 Owner's Review David Barwick said :-
Thanks Nigel,

Really good to here from another mature (I am 56) TNT125 owner, and the "small is beautiful" philosophy by E. F Schumacher, which I have previously quoted on this site.

My spin on the obvious comparison with the Honda MSX125 (Grom in USA)
is to spend the (new price-differential, I paid £1995.for mine) money on customising the Benelli to have something more personal, as opposed to standard/mass produced.

The TNT135 version has recently been introduced to the USA, so its likely there will soon be more after market parts available to play with (e.g Yoshimura already have a full system exhaust out) as opposed to the expensive "bling" anodised this and that, the importer offers.

Here is a photo of my little bike:

The rear-sets are hand-made. In addition to the mods. you can see, I have also changed the front sprocket from std.15t to 14t, for improved pick-up, pulling in 5th gear.

David Barwick, Norfolk, September, 2018.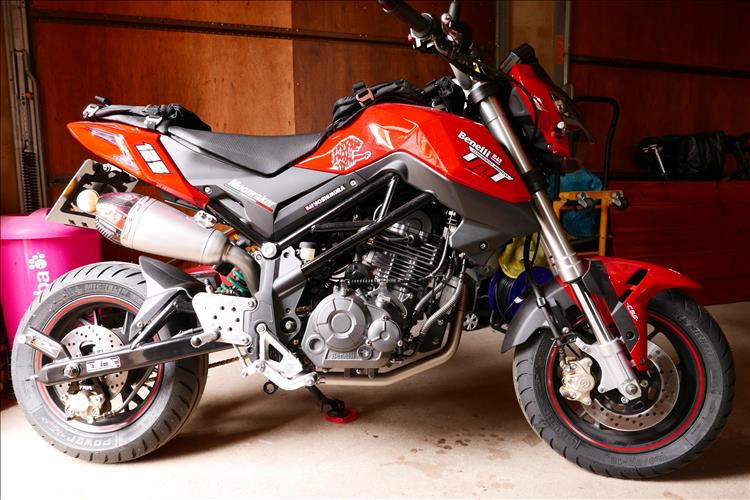 20/09/2018 08:29:13 UTC
---
Kawasaki Z250SL Battery Access Ren - The Ed said :-
Thanks David. It's good to know I have my first customer. All you need to do now is buy a shiny brand new motorcycle!!
20/09/2018 08:05:40 UTC
---
Kawasaki Z250SL Battery Access David said :-
If I ever buy a new motorcycle I'll be sure to talk to you then!
20/09/2018 07:54:45 UTC
---
Yamaha MT03 (2016) Test Ride Review Ren - The Ed said :-
Cheers MP. Yes as a motorcycle for those who've recently passed their test and are stepping up to a larger model the MT03 is a great choice. There's enough power to get you into trouble but not the ridiculous "just look at the throttle and it will kill you" of some bikes.

Even so speaking as a very experienced rider the MT03 is still an excellent bike. It's plenty fast enough for public roads and it has more than enough pace, handling and looks to appeal to any rider.

Enjoy your ride MP, keep safe.
20/09/2018 07:53:33 UTC
---
Kawasaki Z250SL Battery Access Ren - The Ed said :-
Additional lighting - a subject close to my heart. As per another post the rear bulb blew on the CBF125 last week and it was good to have the extra rear LED just to get me the 4 miles home.

Yes - as part of the "Ren's Bike Riding Service" we can offer a "running in" service. I will ride your shiny new motorcycle at a genteel pace for 600 miles. I'll be sure to vary the revs and ride in a variety of road conditions to ensure a thorough bedding in. Thing is I won't be TOO careful though and risk not working the engine sufficiently. It's a balance thing.
20/09/2018 07:48:45 UTC
---
Latest Chit-Chat
Go To Chit-Chat Jim said :-
Hi All - have had a great time over the last couple of days reading this blog. I'm new to biking at 53, just completed my CBT and have got myself a CBF125. Hoping to spend some time in the saddle on fine days over the winter and do DAS in the spring.

Here my trusty steed at Elie, on the East Coast of Scotland.


20/09/2018 11:44:36 UTC
---
Henrik said :-
Hi Nigel ,.. we got these small Benellis in DK also, great fun-factor I guess, it seems to fit you well, I look forward for the review :-)
15/09/2018 19:57:33 UTC
---
Ren - The Ed said :-
Remember NigelS men don't grow up our toys just cost more.

We aim to keep things clean and relatively friendly here. We're all entitled to our opinion but we don't need to be rude about anyone else's.

If you'd like to review your rather smart looking Benelli then drop me a line ren@bikesandtravels.com

Now you be careful on that bike, I'm not sure it might be a tad too tall for you.
14/09/2018 19:58:54 UTC
---
NigelS said :-
WHAT A GREAT SITE! So glad I found BAT - seems friendly and good humoured and totally free of rude people and trolls! I read some comments about 'age marketing' in one of the posts about Sharon's Kwacker 250 explaining how manufactures aim certain bikes at different sectors. Well, I don't know where I fit in as I'm 70 and just bought a 17 year old's bike . . . however my wife will tell you my mental age hasn't actually progressed at all over the intervening decades! If it is of interest I'll put up a full review in the next week or so.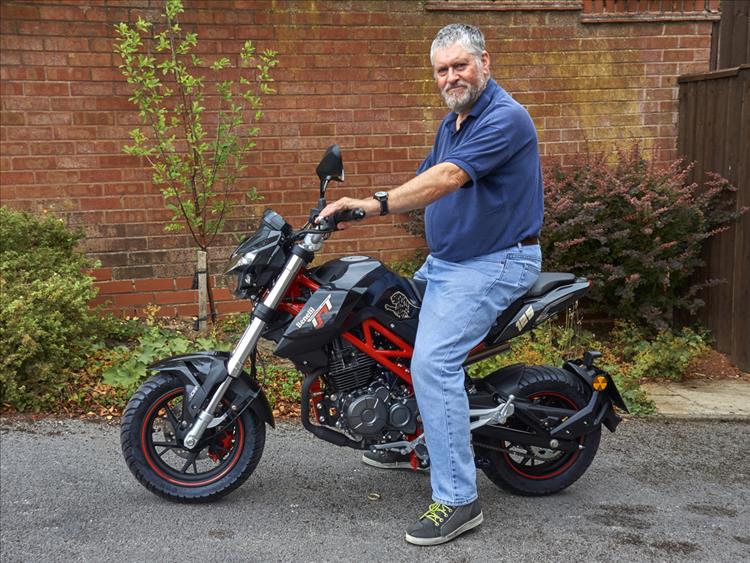 14/09/2018 07:14:45 UTC
---
Ren - The Ed said :-
Sorry there's been no updates or new posts this week. I'm afraid Sharon has kidnapped me and is holding me against my will in a static caravan in Devon. The torment is nearly over and I can return to the joys of working next week.
13/09/2018 21:31:30 UTC
---
Henrik said :-
Machines became larger, becourse mankind became larger, much larger

So seems logical

Few generations 10 inches or so ,.. can se it in my old house

Only problem, they should be even larger,. (higher)

My hight 1.83 cm is normal in DK ,.. most MC's feels like from the toystore
02/09/2018 01:46:54 UTC
---
Ian Soady said :-
"I suspect however most of the increase in motorcycle dimensions is driven by fashion rather than the average human size."

Absolutely. Just one reason I wouldn't have most of the modern bikes as I can't even get aboard them!

The actual dimensions of, say the Norton are probably not too different from a modern bike of similar performance. Wheelbase 55 - 56 inches, seat height 31 inches or so, weight around 380 lb. If you read something like Phil Irving's Motorcycle Engineering, he points out that most bikes actually have to conform to fairly restricted dimensions. In fact the only one relatively unconstrained is the height!

01/09/2018 15:43:30 UTC
---
Ren - The Ed said :-
775mm. Looking at the older bikes is it me or were they actually smaller? This begs the question - why have the modern machines become larger?

I am all to aware - having been out last night with Sharon's daughters and friends - that the yoofs of today appear to be taller. Or...maybe I'm just hanging out with the wrong yoofs. I suspect the "average" human in western society is taller than we used to be say 40 years ago but it's probably only an inch. I recall reading the far eastern averages are increasing quite rapidly due to dietary changes.

I suspect however most of the increase in motorcycle dimensions is driven by fashion rather than the average human size.
01/09/2018 13:48:33 UTC
---
Ian Soady said :-
Thanks Rod & Ren.

I don't intend to use it much before autumn sets in but need to find out what needs doing (an extensive spreadsheet is building up). The Guzzi is now going very well so will spend more time riding that.....

The ES2 actually has the same saddle height as the Guzzi at 31" (775 mm).....
01/09/2018 10:15:33 UTC
---
Rod said :-
The Norton looks and sounds great Ian.
Still a few good months left this year, so enjoy it.
30/08/2018 20:57:07 UTC
---
---