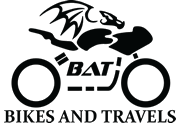 Home
Contribute
Contact BAT
Chit-Chat
BAT Facebook Page
BAT Stickers!
Ren's Biking Blog
Sharon's Biking Blog
Guest Posts
Bike Reviews
Bike Gear Reviews
Bike Tips
Travel Stories
Travel Tips
Repair And Restoration
Interesting Links
Support BAT
Calculators And Converters
Welcome To Bikes And Travels...
...It's about bikes...and travels...mostly on bikes!
Sharon might be packing a pistol to shoot Ren with...
What's New?
Honda In A River Bill has a cautionary tale regarding crossing fords. Fishing for motorcycles anyone?
---
Should I Go To Anglesey? How hard can deciding to ride a bike be? Ren makes it seem very difficult indeed. Luckily he makes his mind up otherwise this post would not exist.
---
Bank Holiday Anglesey Ren takes on Bank Holiday traffic and warm weather. How brave!
---
CBF125 Exhaust Fitting Ren has the parts he needs to replace the exhaust on the CBF 125. Will the mechanical assassin prevail or are we on course for another or Ren's disasters?
---
My CRF230 Story So why would Bill want a CRF230 and what has he done to it to get it to be the bike he wants it to be? Serious rear brakin' folks.
---
Rain Rider Is Sharon skilled in the rain or overconfident? She makes some interesting points regarding experience, ability and riding style.
---
Sleepless Nights Over Sleeping Bags Sharon wants to be warm and cozy in her sleeping bag - a sleeping bag that needs to be smaller and lighter than teabag. She doesn't want much.
---
CBF125 Exhaust - It's Time Replacing and exhaust gasket should be quite easy. Should...unless your exhaust, studs and nuts are made from rust.
---
To Lube Or Not To Lube Do you lube? If so how often? Ren comes to terms with the complexity of chain lubrication and reaches absolutely no useful conclusion at all.
---
Testing The New Adventure Transport Sharon and Ren are very proud to announce their future vehicle of choice for touring and adventures.
---
Latest Posts
CB500X Fairing Panel Removal Ren - The Ed said :-
Hi Julio Zipa. I'm afraid I haven't got to taking apart the light or the digital display yet.
22/05/2018 15:07:13 UTC
---
CB500X Fairing Panel Removal Julio Zipa said :-
Hi friend, I need change the fairing panel display and the fornt light, how start after that I have retired the fairig panel side?.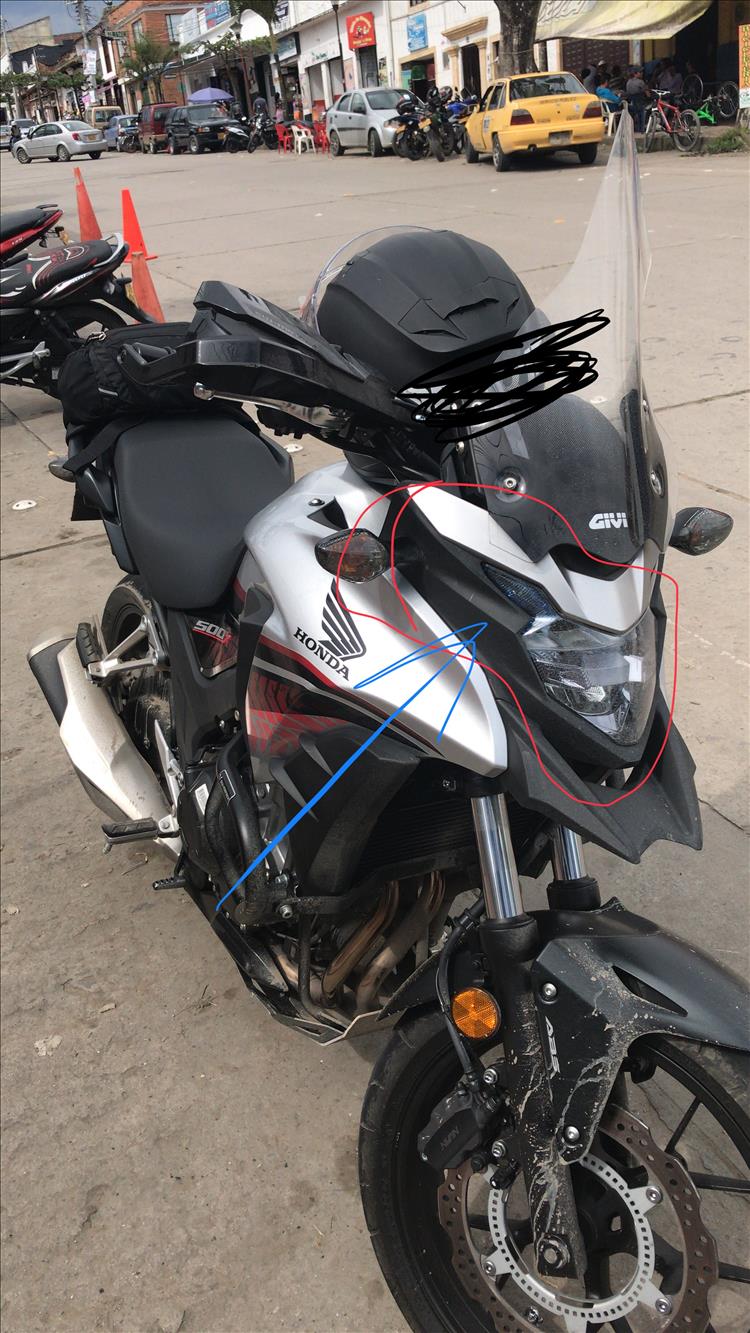 22/05/2018 13:08:30 UTC
---
Should I Go To Anglesey? Ren - The Ed said :-
Hmmmm. There's 2 places I stopped near the coast. On the Sunday on Anglesey overlooking Caernarfon. Then on the bank holiday Monday I was near Rhyl and Prestatyn?
20/05/2018 21:23:08 UTC
---
Should I Go To Anglesey? Bob said :-
I think I might have seen you, or your bike at least. I was in North Wales for the whole week and I saw a heavily loaded CBF125 parked and I wondered if it was you!
I can't remember exactly where I saw it but it was on the coast which would have been right if you were heading for Anglesey.
I was on my BMW G650X.
North Wales is an amazing place, I'm intending to move there when I retire.
noswaith dda!
20/05/2018 18:44:20 UTC
---
StormProtector Motorcycle Shelter Review Rod said :-
Thanks Sharon/Ren,
It looks like it does what it is intended for, it was never going to be a shed.
I will look closer at the StormProtector as an option.

19/05/2018 19:00:56 UTC
---
CBF 125 Side Stand Switch Problem Ren - The Ed said :-
Hi Charles. Without a side stand switch there is always the risk of the side stand digging in on a left hander if it's been left down. That's why bikes have them fitted.

I always used to wonder what the piece of rubber on the side stand was for on earlier bikes without sidestand switches. Than I worked it out. That piece of rubber makes contact with the tarmac *JUST* before the metal stand does. This flicks the side stand up before the stand has chance to dig in.

So either you need a switch to stop you from riding off, a piece of rubber to flick the stand up if you can/do ride off or no side stand which solves the issue.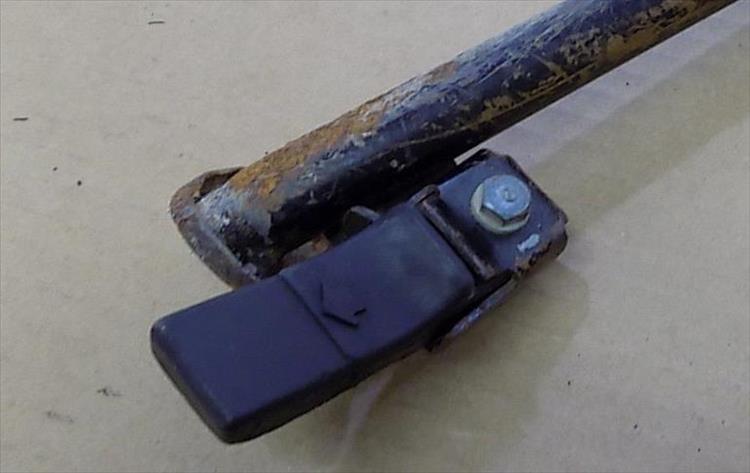 19/05/2018 10:09:17 UTC
---
StormProtector Motorcycle Shelter Review Sharon said :-
Hi Rod,
As usual Ren beat me to my reply.

I have attached some pictures I took today so you can see what it looks like after two years.

As Ren said and as you can see it is certainly not black anymore but that does not effect it's performance.

The pool on the top annoys me but again it doesn't seem to do actual harm because it has never began to leak underneath the pool.

Mine has a few small holes in it which is caused by my own cat who likes to claw herself up onto my shelter to get on and off my fence. I have just put some parcel tape on those and no leaks there now either.

The frame is still in general in good condition. On wet days you can now see a rust tinge to water running out of the frame but all movement when lifting the shelter is still totally smooth.

It has withstood some pretty awful weather in the years I have had it so far including several storms and high winds. It was still standing when storm Doris managed to rip my gates locks off.

So for the price yes I would recommend it. It is beginning to show signs of wear but I reakon it's still got life in it yet.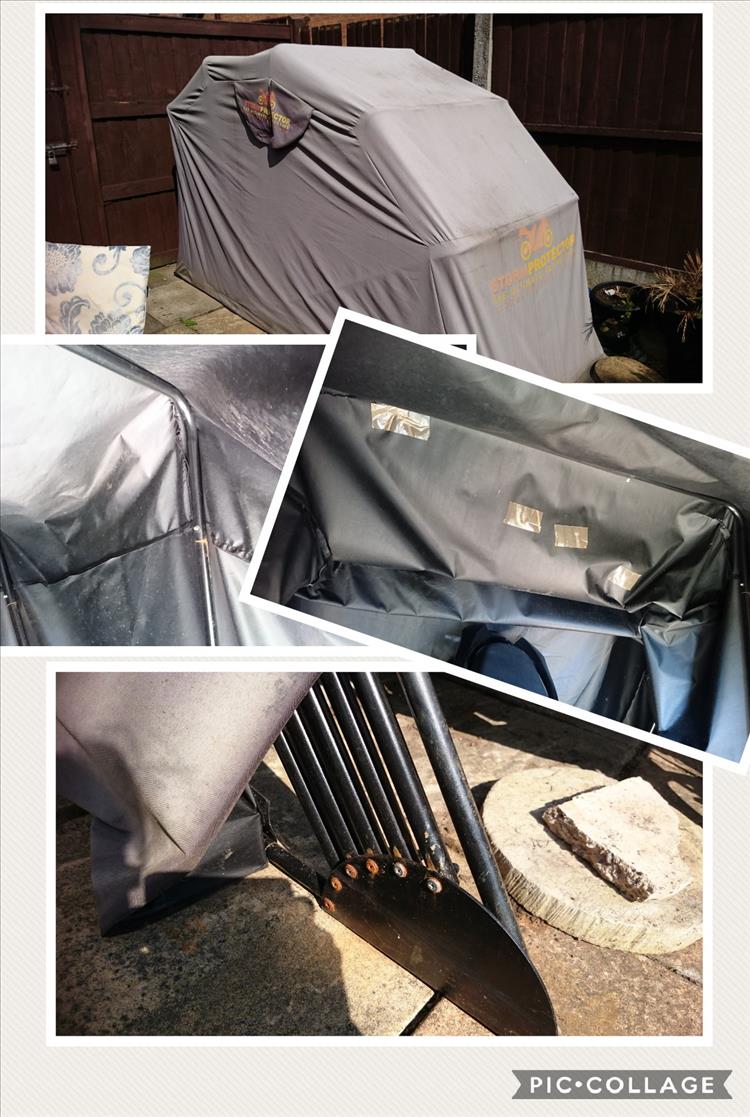 19/05/2018 09:55:12 UTC
---
CBF 125 Side Stand Switch Problem Charles said :-
As long as the springs fine and tight on side stand you will be fine
19/05/2018 05:01:15 UTC
---
StormProtector Motorcycle Shelter Review Ren - The Ed said :-
I'm sure Sharon will chip in but here's my tuppence.

It pools on the top. It's starting to get a little rusty. It has totally faded. In the deepest darkest winter the bike gets condensation on it. Other than covering the bike it offers no security.

BUT.....

It's easy to use. It keeps the worst of the weather off. Unless you have a heated garage all bikes have to endure condensation in winter. A regular lick of paint will keep the rust at bay.

If you can afford and have space for a shed, get a shed. If you don't or can't then I think these are a better idea than the sheet type covers.

Yeah, snot bad even after 2 years.
18/05/2018 22:51:06 UTC
---
StormProtector Motorcycle Shelter Review Rod said :-
Hi Sharon,
I think that you have now had your StormProtector for two years and would like to know how it is standing up to the test of time.
I am shortly moving in with my son and will need something like this to keep my 250 Suzuki in.
I know you are busy at the moment, and hope everything is going OK with your daughter.
Please let me know if and when you can, or if anyone else has had a StormProtector for a few years it would be good to hear your views.
18/05/2018 17:44:59 UTC
---
See all older posts
Latest Chit-Chat
Go To Chit-Chat Ren - The Ed said :-
Yeah erm. 1 closed road. 4 closed campsites. Absolutely knackered. 1 cheap but oddly nice hotel/hostel. Goodnight!
23/05/2018 20:58:56 UTC
---
Ren - The Ed said :-
I am all at sea.

Yes Brittany Ferry's wifi is a bit slow. Borsuk's explanation regarding the upside down tram connection makes a lot of sense though.

We're in an outside cabin Borsuk. I didn't want to splash out but all the cheap cabins had sold out! The car alarms have stopped, I suspect they've gone flat now.
22/05/2018 12:42:09 UTC
---
Borsuk said :-
When I am on the ferry to Spain, I usually spring for the outside cabin as it's that bit farther outboard and more insulated from the car decks and the car alarms.
There's a big long hook under the hull that runs along a special rail on the seabed, bit like an upside down tram power supply.

Honest.
22/05/2018 11:55:43 UTC
---
Ian Soady said :-
So what was your post about then? Brittany Ferries actually have decent wifi if a bit slow......
22/05/2018 11:31:39 UTC
---
Ren - The Ed said :-
Tinternet ont water!! Must have a very long wire.
22/05/2018 11:21:33 UTC
---
Ian Soady said :-
So you're on the ferry then?

Have a good trip.
22/05/2018 08:55:20 UTC
---
Ren - The Ed said :-
Ahhhh the sweet dulcet tones of car alarms going off on the deck of a vessel. Note to self - if I'm ever foolish enough to have an alarm be sure to learn how to turn it off completely.
22/05/2018 08:20:46 UTC
---
Ian Soady said :-
As someone (probably) once said, you can't control what happens to you but you can control how you respond.
14/05/2018 09:52:57 UTC
---
Ren - The Ed said :-
I agree, in any fight the bike will always come off worst, a point I made way back on the 125's on motorways post.

I still find I curse and shout inside my helmet when other road user's actions don't quite meet my own standards. I have learned to not let this alter my riding though. It's not easy to stop seeking vengeance but it is ultimately a fruitless pursuit that only puts me at risk either of injury or prosecution. Life is not fair, the road is not fair, we just have deal with it.
14/05/2018 08:08:09 UTC
---
Ian Soady said :-
In any bullying contest, the motorcyclist is going to come off worst (unless it gets to fisticuffs and even then I wouldn't fancy my chances).

I used to get wound up about this kind of thing but now I'm much more philosophical and don't let it ruin my day. I console myself with the thought that I've only encountered the offender briefly- he (or much more rarely she) has to live with themselves 24 hours a day.

"Here lie the bones of poor John Gray
Who died defending his right of way
He was right, dead right as he rode along
But he's just as dead as if he'd been wrong"
12/05/2018 09:13:27 UTC
---
---
_