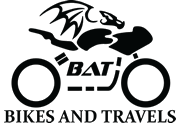 Home
Contribute
Contact BAT
Chit-Chat
BAT Facebook Page
BAT Stickers!
Ren's Biking Blog
Sharon's Biking Blog
Guest Posts
Bike Reviews
Bike Gear Reviews
Bike Tips
Travel Stories
Travel Tips
Repair And Restoration
Interesting Links
Support BAT
Calculators And Converters
Welcome To Bikes And Travels...
...It's about bikes...and travels...mostly on bikes!
Sharon might be packing a pistol to shoot Ren with...
What's New?
The Ferry Home It's the dynamic muppet's last day in Spain so it's time to catch the ferry. A mixture of sadness and relief for Ren, but what about the other riders in the queue?
---
Burgos Bimble Sharon explores the city of Burgos, Spain. Architecture, stone masonry, pilgrims and tempting food. But can a city really endear itself to this country girl?
---
Llangollen Bike Fest 2018 Sunshine and shameless self promotion. It's a weekend away for Ren with the Chunky Tread crew. The Llangollen Bike Fest provides the people and entertainment.
---
Sun, Sand, Sea And Santander The weather has improved now it's time for the dynamic muppets to head back to the ferry. Ren is intrigued by stories or walking across Northern Spain, will we see "Walks And Travels" or W.A.T.?
---
The All Female Slapper Day Out An all female biker meet? Wind and rain? Questionable tyres on dubious roads? Disasters all around? Smiles? Friends old and new? Hot tea? This day out for Sharon has it all and so much more.
---
Brexit Booking With Brexit looming and uncertainty regarding what will happen Ren is considering whether or not to book next year's adventure.
---
Beautiful Potes While going to a now familiar town is hardly intrepid at least it means Ren is calm, chilled out and not lost. For once.
---
Magical Kingdom Sharon's having another amazing day riding around Northern Spain. She's on a high, metaphorically and literally.
---
Back To Beauty, Dodgy Caravan It's time for the dynamic muppets to saunter their way back towards the ferry and Ren is in reflective mood. Wonderful scenery, weird accommodation.
---
Gritty Northern El Bierzo There's time to explore a different part of Northern Spain today. It might not have the beauty of The Picos De Europa it is however a fascinating area.
---
Latest Posts
Burgos Bimble Ren - The Ed said :-
We are all different Rod and we appreciate different things. While Sharon and I don't agree on everything we both seem to appreciate not ploughing on through endless miles every day, rather we like to stop and look around.

Ian's right about the camping. While some (not all) camping municipals in France are close to town generally around the UK (and Spain too) the campsites are way out of town.

If you're going to a specific place and know well in advance then it's a good idea to seek out campsites close to places you may wish to explore. In the past we've also used buses to reach town.

However on a tour like this one we don't know exactly where we are going to go. In which case we have to improvise. By taking a day out from travelling and simply making the fairly short ride to town we had the chance to look around. That said we had our bike kit on and our helmets which is a pain in the ass.

Whatever works for you - but I do strongly recommend travelling slowly.
17/08/2018 11:57:30 UTC
---
Schuberth C3 Pro Helmet - The Saga Continues Ren - The Ed said :-
Cheers Pete, I had nothing!
17/08/2018 11:49:54 UTC
---
Burgos Bimble Ian Soady said :-
I no longer do extended continental (or anywhere else indeed) tours. However, when I did I always liked to be at my resting place for the night (never pre-planned) by 4 pm or so giving plenty of time for a wash and brush up and a reasonable stroll around the town, with a glass of beer in a neighbourhood bar before dinner.

I generally tried to find small independent hotels in small towns with something to see - always churches etc but often other interesting buildings.

Harder when camping of course but in France many of the municipals are on the edge of towns or villages so you can still do this.
17/08/2018 10:52:08 UTC
---
Burgos Bimble Rod said :-
Looking at your pics has made me think again. I should stop riding so many miles in one day, and appreciate the places I ride past.
Or maybe I should ditch the bike and start walking!
17/08/2018 10:06:07 UTC
---
Schuberth C3 Pro Helmet - The Saga Continues Pocketpete said :-
https://www.bargainbikerbrands.com/schuberth-c3-sun-visor-mechanism-genuine-replacement-part.html

You can buy it at the above link £ 29

Or if your helmets in warranty you can send it off and they will fix it. Or they will send out the part free of charge. It took me 2 hours to replace it. No hard just awkward.
17/08/2018 07:13:21 UTC
---
Tips On Riding A 125 On A Motorway – By Ren Withnell Ren - The Ed said :-
There's nothing wrong with riding a Lambretta or a Vespa. I don't object to scooters - unless of course it's a 2-STROKE! ARRRGH!

Only teasing bigd, thanks very much :)
16/08/2018 19:12:53 UTC
---
Brexit Booking Borsuk said :-
In Spain you insure the car or bike, not the person. Mine are insured for any driver over 25 to drive with my permission. Permission has to be in writing and the person driving must have the letter on them when driving. All documents for the car have to be with it at all times.
16/08/2018 16:53:31 UTC
---
Brexit Booking Ren - The Ed said :-
Åsa or Borsuk should be able to shed some light on this :)
16/08/2018 14:32:46 UTC
---
Brexit Booking Rod said :-
Ren, I may be wrong on this, but I belive that bikes and cars are insured for any rider/driver in Spain.
16/08/2018 12:21:44 UTC
---
Brexit Booking Ren - The Ed said :-
Oooooh borrow a bike! Wonder how that works with insurance though?
16/08/2018 08:17:09 UTC
---
Latest Chit-Chat
Go To Chit-Chat Ren - The Ed said :-
The long suffering CBF 125 has passed another MOT.
17/08/2018 19:44:58 UTC
---
Ren - The Ed said :-
No Borsuk! You must now wait patiently like a real growed up adult. You must consider your options taking into account all possible factors. You must ponder the fiscal implications. You must spend endless hours pouring over reviews and forums to learn all you can about any potential purchase.

Of course what you should really do is spend the next 15 years purchasing cheap used motorcycles to help you learn what you like and dislike about various engine configurations and seating positions and styles and how each marque makes their machines. Only then can you start to form an informed opinion.

Or you can do what most people do and look around a shop and loudly announce "OOOOOHH! I want THAT one!" Be sure the salesperson hears this, that way they know they won't need to put together a good deal because they know you really like the bike.

Awwww, sod it. You've got a couple of quid saved up. Go out and buy a Kawasaki H2R.
13/08/2018 11:35:49 UTC
---
Ian Soady said :-
I used to do that when I was 12 years old.

Not sure I've matured much although don't get as excited by shiny things in shop windows........
13/08/2018 09:11:53 UTC
---
Borsuk said :-
Do I have your permission now to to go into bike shops and act like a kid in a sweet shop Ren. Stand there outside with my nose pressed up against the window and covering the glass with drool as my gaze switches frantically from model to model.
12/08/2018 09:40:40 UTC
---
Ren - The Ed said :-
Oh that pleases me so much - "Dirty enough to meet BAT standards". I feel like I am setting the bar by which all others must be measured. The BAT standard dirtiness scale. 1 being fresh out the showroom clean through to 10 being essentially a pile of dirt with a motorcycle underneath. Sharon will be thrilled to know she's part of the team that created the industry standard for measuring how dirty a motorcycle is.




08/08/2018 21:03:52 UTC
---
Ross said :-
"Ren - The Ed said :-
That Inazuma is waaaaaaay too clean. In fact they're all waaaay too clean. Remember folks motorcycles are for riding not for looking at."

The Inazuma isn't as clean as it looks in the pic', it's covered in dead flies on the front and rather dusty...the weather is refusing to rain in Kent at the moment so there's not the chance to get it dirty enough to meet BAT standards!

"I have not seen any DIY hand guards either. Man I'm so far ahead of the trend I'm behind."

I'll let you suggest homemade hand guards to 'Captain America'!

07/08/2018 15:13:19 UTC
---
Ross said :-
Well done, Borsuk, I'll keep my fingers crossed for you for Friday! :)
07/08/2018 15:08:48 UTC
---
Ren - The Ed said :-
Whoop whoop! Well done Borsuk.

As for the electrical stuff. Yip, there's no set rules as to how each part should work. Maddening ain't it. Same with a clutch lever switch - some normally open some normally closed. I found that out to my cost.
07/08/2018 13:23:23 UTC
---
Borsuk said :-
Passed my Mod one yesterday and have my Mod 2 on Friday so here's hoping. Been out on the 125 a lot this leave but I still have the occasional days where my hand foot coordination goes to pot. I have been doing a few of the jobs on my list in the good weather, finally added extra LED rear and brake lights to my top box and LED spotlights to the front so I can actually see things in front of me at night. Spent 3 hours trying to get the bike to start after adding lights and replacing side stand kill switch. Finally checked the operation of the kill switch against the old one and discovered it operated the opposite way round. Old one was open circuit with side stand down and new one was open circuit with side stand up. Might cut up the new one and use the parts in the old one.
07/08/2018 09:23:57 UTC
---
Ren - The Ed said :-
That Inazuma is waaaaaaay too clean. In fact they're all waaaay too clean. Remember folks motorcycles are for riding not for looking at.

I have not seen any DIY hand guards either. Man I'm so far ahead of the trend I'm behind.

Looks like a smashing day Ross. I was at the Llangollen Bike Fest this weekend. There'll be a report on that coming soon.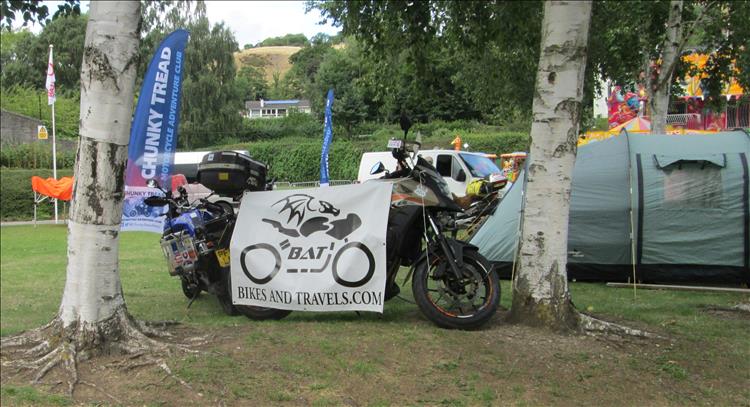 06/08/2018 21:54:13 UTC
---
---
_