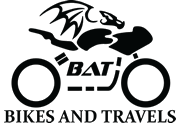 Home
Contribute
Contact BAT
Chit-Chat
BAT Facebook Page
BAT Stickers!
Ren's Biking Blog
Sharon's Biking Blog
Guest Posts
Bike Reviews
Bike Gear Reviews
Bike Tips
Travel Stories
Travel Tips
Repair And Restoration
Interesting Links
Support BAT
Welcome To Bikes And Travels...
...It's about bikes...and travels...mostly on bikes!
What's New?
Road 5 Wet Grip And Reality Michelin are bringing out the new Road 5 and they're GREAT in the wet - allegedly. But will they be GREAT in a cold wet British winter deluge with diesel strewn corners?
---
Exploring The Gower Peninsula Considering the day was supposed to be a washout Sharon and Ren get to look around the Gower Peninsula in good conditions. There's only one problem with Sharon's perfect beach - the walk back.
---
Replacing The CBF125 Clutch It's time for Ren to replace the worn out clutch on the CBF125. Is this to be another mechanical cock-up or is there a risk he might do something right for once?
---
Spanish Butt Stephen takes on 2 Iron Butt rides in 2 days. France and Spain treat him to a variety of weather while Sat Nav spits its dummy out.
---
Spoiled Rotten In Gower Sharon is for once actually preying for rain and Ren is wondering if Sharon is going to kill him. What on earth is going on?
---
CBF 125 Worn Out Clutch Ren's 125 is showing more signs of its age. This time the clutch is letting go. Is this really a shock with 68,500 miles on the clock?
---
Exploring Around Tenby Between the endless cute coves, splendid coastal resorts and curiosities there's time for some field repairs. The big worry now is the forthcoming weather.
---
Givi Handguards (HP1121) Review Pocketpete is doing battle with handguards in the interest of preparing for winter. He's struggling with the instructions and bar end weights before he can try them.
---
BAT Art Sharon's re-discovering her artistic side and with a little luck there'll be more to come.
---
The Other Service Items Just like painting a room it's the fiddly little tasks that are often neglected. In the interest of being thorough (for once) Ren goes through the oft forgotten service items on the CB500X
---
Latest Posts
Road 5 Wet Grip And Reality Ren - The Ed said :-
Yeah it's real hard getting tyres up to temperature when stuck in traffic jams and sitting at lights. It's nigh on impossible when it's -3 with wet roads covered in salt.

When I read that I feel a whole lot better about negotiating oil soaked roundabouts at 15mph. It's a blinking miracle we can reach the end of the street.
18/11/2017 19:11:19 UTC
---
Road 5 Wet Grip And Reality Ian Soady said :-
Bike tyres nowadays are all streets ahead of even the best we used to have (TT100s etc). However, the magazines etc tell us that we need to "warm them up" in order to get them to work properly.

In the real world, this is nonsense. Where you need the grip is exactly those cold, slimy conditions at around 10 degrees C where you have no chance of them getting more than slightly warm. What we need is tyres that have BETTER grip in those conditions not worse.

Of course this won't suit those characters who insist of getting their knees down (why?) or go round parked bikes comparing "chicken strips". So it won't happen.
18/11/2017 13:32:34 UTC
---
Fazer 600 Oil and Filter Change - Problem - By Ren Withnell Ren - The Ed said :-
I'm glad it wasn't just me! I was beginning to think I was just useless. Cheers Mark.
17/11/2017 06:53:41 UTC
---
Fazer 600 Oil and Filter Change - Problem - By Ren Withnell Mark said :-
I've had a FZS600 for 14 years and this is a common problem. Residual oil hides in many places. After taking out the sump plug and filter , leave to drain for 30 minutes or so on the side stand before replacing and refilling.
Good idea, as said, to first fill to the bottom of the sight glass, and top up after a decent ride.
16/11/2017 22:22:34 UTC
---
Schuberth C3 Pro Helmet - The Saga Continues Ian Soady said :-
I still think they'd pay more attention to a prosecution by Trading Standards.

Might even be worth taking the retailer to small claims court on the basis the item is unfit for its designed use. It's a nice easy process, doesn't cost much (and you get it back if you win) and for those of us with a bit of spare time can be quite fun.

I recovered £10,000 for my wife after she'd been ripped off by a get-rich-quick merchant. Very satisfying.....
16/11/2017 12:28:42 UTC
---
Schuberth C3 Pro Helmet - The Saga Continues Pocketpete said :-
Well the best thing is to do real reviews so that other people don't buy that particular item.

If enough people do the same and it seems lots of people have similar issues then they won't sell any more....

It's such a pity as the helmet is good in concept.
15/11/2017 22:38:09 UTC
---
Schuberth C3 Pro Helmet - The Saga Continues Ian Soady said :-
That's appalling. Have you spoken to Trading Standards? Mind you, with council budgets having been slashed due to ill-advised "austerity" many of them have virtually closed down.

Still, once we brexit we won't have any standards to worry about........
15/11/2017 15:31:28 UTC
---
Schuberth C3 Pro Helmet - The Saga Continues Pocketpete said :-
Yes quality german engineering my visor ratchet snapped off today. Good job I purchased a spare. Another £ 14 wasted on this helmet.
15/11/2017 12:34:06 UTC
---
Exploring The Gower Peninsula Ren - The Ed said :-
HA! Yes you need to read it more carefully. Another excellent picture Henrik - you have an eye for these things.
15/11/2017 11:42:51 UTC
---
CBF 125 Worn Out Clutch Ren - The Ed said :-
Spot on Andy.

Ian - the canisters are cheap enough to make but I wonder if the additional plumbing required to pump through the filter creates additional costs? The centrifugal filter on the 125 is stuck on the end of the crank.
15/11/2017 11:40:34 UTC
---
See all older posts
Latest Chit-Chat
Go To Chit-Chat Ren - The Ed said :-
Sharon insists on a butler outfit with no ass in the pants. She's strange like that. One must also address her correctly - either "Your Ladyship" or "Ma'am".
10/11/2017 20:19:21 UTC
---
Borsuk said :-
Ren. You can dine at my table anytime your passing and I'm home or in the UK, herself has a place near Wrexham we have been overhauling. You can wear a tuxedo if you insist but seems a bit much for bacon rolls and a pot of tea if you ask me.

Is the tuxedo part of the uniform of a tent slave. Does Sharon have you dressed up to pass her a mug of tea in a properly sophisticated manner.
09/11/2017 23:19:18 UTC
---
Ren - The Ed said :-
Enjoy your riding Matt Mac. Don't you go terrorising the locals with your wheelies and burnouts!
03/11/2017 09:31:08 UTC
---
Matt Mac said :-
Dear Editor, Hi all, just got the tax and book back for the little Innova,so hopefully get some use out of it at long last.My wife and I have visited a fair few towns and villages in around Yorkshire and Lancashire,great scenery. Kindest regards to all .
02/11/2017 19:32:39 UTC
---
Ren - The Ed said :-
Great Harwood? I knew it well. When I were but a young pup I used to live on Harwood Road in Rishton, the road lead to Great Harwood.

Great Harwood is about 3/4 hours ride from my place. I don't know of any cafes in Harwood but around 10 miles from there is Winfields of Haslingden. It's a shoe/camping/nick nacks shop with a cafe filled with vintage motorcycles.

Be good to meet up and have a brew.
19/10/2017 09:54:56 UTC
---
Matt Mac said :-
Dear Editor,my wife has just went on a short cruise, to Scotland .She is going to see her sister in Great Harwood ,that's in you guys part of the world . When Eileen heads of I can do as I want . If I ever get the Honda taxed and I visit my sister in law I could buy you a cup of tea .

18/10/2017 20:49:39 UTC
---
Ren - The Ed said :-
Oh bless Ian, poor fingers.

I'd like a short cruise just to sample the high life and eat all the food. I can't imagine me in a tuxedo though dining at the captain's table. After a day or two though I think I'd be ready for a change.

But then what kind of fool takes a tent and a motorcycle around the cold wet and windy UK? I think I need my bumps feeling.


17/10/2017 17:40:50 UTC
---
Ian Soady said :-
.... must be the Greek weather getting to my typing fingers....
16/10/2017 13:35:44 UTC
---
Ian Soady said :-
The thought of a cruise makes me shudder - you'd probably get stuck with that bloke who rabbits on and on about old motorbikes.

At leat here you can ignotre him.......
16/10/2017 13:34:55 UTC
---
Ted said :-
I have never been on a world cruise......still so many places in the UK I ain't seen yet.

PLUS, once you have done ONE world cruise.....where can you go next n not get bored?


just asking.
15/10/2017 19:59:23 UTC
---
---
_