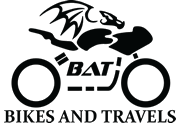 Home
Contribute
Contact BAT
Chit-Chat
BAT Facebook Page
BAT Stickers!
Ren's Biking Blog
Sharon's Biking Blog
Guest Posts
Bike Reviews
Bike Gear Reviews
Bike Tips
Travel Stories
Travel Tips
Repair And Restoration
Interesting Links
Support BAT
Welcome To Bikes And Travels...
...It's about bikes...and travels...mostly on bikes!
What's New?
Rainbows On Motorways Just when you thought it was safe to get back on the road after the cold snap Ren experiences a buttock clenching moment on the motorways. Come back heavy rain, all is forgiven.
---
CBF 125 Exhaust Rust The exhaust on Ren's 125 is finally showing signs of its age. It will need replacing at some point - the question is what with.
---
Epilogue - South Wales 2017 Once again another trip comes to an end and it is time to return to the reality of everyday life. Neither Sharon or Ren are ready for it to be over.
---
Scooter Cannonball 2012 Would you choose to ride across America? On a scooter? Is there such a thing as a Scooter Cannonball? It is a strange world that we live in.
---
Moto Winch Anyone? This gadget can help get your motorcycle upright once again if you've been unlucky enough to drop it. There's pros...and cons.
---
The Trouble With Trouble So bigger motorcycles are safer as they have the power to get you out of trouble? Sharon ponders this received wisdom. Can you help her work it out?
---
Exploring The Brecon Beacons After yesterday's deluge will the soggy campers get chance to dry out and actually see The Brecon Beacons? Sharon is bleating out some awful sheep puns too.
---
Poorly FZS600 Fazer Despite Stephen's years of experience tinkering with troublesome 2 wheelers he's still capable of making life hard for himself. This time his angst is brought on by his latest winter hack.
---
Managing Expectations They say you should never meet your heroes. Ren has met a few real world travellers and this has both a negative and a positive effect on him.
---
125 On-Off Roaders? So what kind of on-off road 125cc motorcycles are currently on the market? Ren's pondering which future second hand bike to buy. It's not looking good.
---
Latest Posts
CBF 125 Cold Tickover SOLVED MALC davies said :-
Had the no idle till warm problem. Rest the tappets .all good .thanks for the info .
17/12/2017 18:58:08 UTC
---
Test Ride Review Of The Suzuki Inazuma 250 - By Ren Withnell Ian Soady said :-
You could get a nice little caravan to tow behind your 125 Ren. It might slow it down a bit though......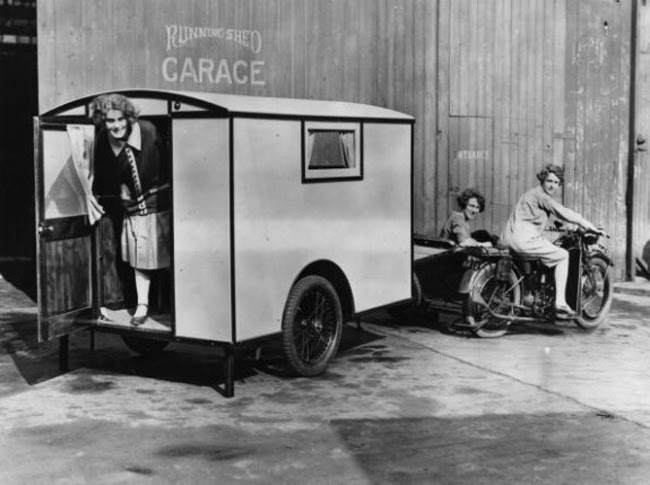 17/12/2017 15:22:49 UTC
---
Test Ride Review Of The Suzuki Inazuma 250 - By Ren Withnell Rod said :-
I understand that trailers are not for everyone, and there are pros and cons.
The maim drawback is the speed limits imposed by law, 50mph on normal roads and 60mph on duel carriageways and motorways. The handling is not that bad at these speeds, but by far the most important thing effecting the handling is the tyre pressures. These need to be much lower than I first thought, and when empty I have found that you can run as low as 12psi, fully loaded I run 18 - 20 psi. If you run higher tyre pressures the trailer will bounce which effects the handling when cornering. Having said that all of the bikes I have loaded with full camping gear without a trailer have had the handling effected by the extra weight.
The other disadvantage is filtering. You can filter with the trailer, but I always feel uneasy as to if other road users have seen the trailer. Also I have had instances when riding a bike with large panniers in London where I have held up smaller bikes trying to filter through the traffic because I can't get through the smaller gaps, and the trailer will do the same, so you may not be popular with fellow bikers. I do not normally filter with the trailer, and plan my routes to try to avoid areas were there is traffic.
I have spoken to bikers who find a trailer a restriction of there freedom, but in all cases they tend not to go camping, but like to use hotels, or bed and breakfast, and like to get from A to B at much higher speeds than I travel at. You pays your money and take your choice!
I live in Northamptonshire.
17/12/2017 13:01:19 UTC
---
Test Ride Review Of The Suzuki Inazuma 250 - By Ren Withnell Ren - The Ed said :-
Cheers Rod. I am tempted I really am. I just can't get my head around what it does to the handling. You seem to find it just fine but others seem to find it quite lairy.

Where abouts do you hail from Rod?
16/12/2017 22:37:14 UTC
---
Rainbows On Motorways Ren - The Ed said :-
That's excellent information B, a handy number to keep hold of. It's always a tough decision with 999 - the last thing I'd want to do is waste critical emergency services time but then if life or limb are at serious risk then it is an emergency.
16/12/2017 22:31:13 UTC
---
Rainbows On Motorways B said :-
Highways England on 0300 123 5000 are the ones to contact for motorway related stuff including incidents such as this. Having said that, personally, if I felt that whatever I have seen (spillage, deep~large pothole, Etc.) has the immediate potential to cause a competent rider/driver travelling with reasonable care to have an RTC, I'd report it to 999. If nothing else, they may pass the info to Highways England via a more direct route.
16/12/2017 08:33:38 UTC
---
Test Ride Review Of The Suzuki Inazuma 250 - By Ren Withnell Rod said :-
After down sizing from a full dress Kawasaki GTR tourer about six years ago, I got a 500 Kawasaki. When I got the 500 my wife decided to come on the back again, and as a result I was missing the large panniers and places to stash stuff when away for a weekend camping. I found a cheap light weight sidecar and spent about a month making brackets to fit the sidecar and setting up the sidecar to carry luggage. The sidecar lasted one day! I hated it, so it was quickly taken of the bike and the sidecar was sold. I then thought about a trailer and started to look on ebay. After a while I saw this one for sale from a motorcycle shop, and the trailer was just the right size, and made for a bike. I won the auction and went to pick up the trailer. When I got there the guy in the shop asked if I had a tow bar, and offered one off a Suzuki 650 which the trailer had been attached to and we agreed a price of an extra £5.00,
After making two small brackets the tow bar fitted, and after a quick ride I was very happy with the handling and the performance.
Next weekend we went down to Lynmouth for the weekend in Devon, about a 400mile round trip. The trailer performed well, we took all of the kit we wanted, and the bike returned 65mpg. The trailer is the perfect solution for me, as I do not tour at 100mph. When I down sized again to the Inazuma the tow bar would not fit anywhere, so I had to make up more brackets, this is why its a bit heath robinson! I first made the brackets from dexion type angle iron, but this flexed too much, so I got a mate to weld strengthening square section inside the angle iron. It is now very stable, and although the speed limit for towing a trailer is 60mph I have taken it up to 75mph on my personal test track lol with no problems. Ren the other advantage of towing the trailer if you take the plunge, is that you can leave it parked up with all of your camping gear locked out of sight, and you do not have to carry bulky biking gear and helmets with you when you are walking around.
15/12/2017 21:10:10 UTC
---
Test Ride Review Of The Suzuki Inazuma 250 - By Ren Withnell Rod said :-
Hi Ian, The tow bar frame is fitted to the exhaust/rear footrest mounting, and the rear carrier. It is not fixed to the swinging arm, the swinging arm goes up and down between the frame. I had a look at the link! That looks like a good trailer, but I think it may be too long for the UK regs.
15/12/2017 20:09:52 UTC
---
Test Ride Review Of The Suzuki Inazuma 250 - By Ren Withnell Ren - The Ed said :-
It can't be attached to the swingarm and the underside of the rear rack. I *think* there are arms going back to the frame at the rear of the engine. Come on Rob we need technical details, drawings, measurements and science!

It's a fair old rig though. Looking at the size of that box I'm start to drool, thinking about all the home comforts we could take with us on our next outing. Thanks Rob.
15/12/2017 19:13:28 UTC
---
Test Ride Review Of The Suzuki Inazuma 250 - By Ren Withnell Ian Soady said :-
That looks quite neat but the towbar looks a bit odd. Is it attached to the swinging arm? Most of the ones I've seen (not that many TBH) seem to be cantilevered off the frame.

There are also the single wheeled jobs like in the link below.
www.adventurebikerider.com/build-motorcycle-trailer/ ...
15/12/2017 16:14:45 UTC
---
See all older posts
Latest Chit-Chat
Go To Chit-Chat Ren - The Ed said :-
Just think - in another 7 days the nights will start drawing out! Only January, February and March to get through and we'll be into Spring and all will be well and life will be excellent and the sun will shine and birds will sing and roads will be dry and everyone will be smiling.

I'm delusional again aren't I.
15/12/2017 08:56:36 UTC
---
Ren - The Ed said :-
Yeah fresh snow or slush is delicately doable but right now on the car parks for example there's patches of compressed ond now very frozen snow - which is pretty much ice.

The roads are clear which is good. I'm avoiding several of my favourite routes to work as they involve quieter roads and these will *probably* be ok but I don't want to find out the hard way they're not.

Fear not, the rain is returning soon.

As for the radiator bike Ted. That'd be great but where does the boiler go?
12/12/2017 06:16:15 UTC
---
Ian Soady said :-
Snow, especially when it's fresh isn't too much of a problem until it gets packed under the mudguards and stops the wheels rotating. But black ice is definitely the time to leave the bike in the garage.

Again on the Commando in that same winter: a sudden frost after rain had washed the salt away left the road surface like glass. Came to a pelican crossing which turned red as I was approaching and the merest touch on the brakes had me & the Norton sliding along gracefully. I couldn't actually stand up and had to crawl into the gutter where a couple of kind souls helped me and the bike up so I could gingerly continue on my way home.

At the time (in fact for about 10 years) I had no alternative form of transport and if I hadn't made it to work I'd have been sacked.

The next week I bought a cheap Yamaha DT125 which was much better for the conditions.
11/12/2017 10:25:06 UTC
---
Ted said :-
My old mate Phil reckons that although this might be a bit heavy, and seriously under powered (He don't pedal that fast)

This could be his next winter bike.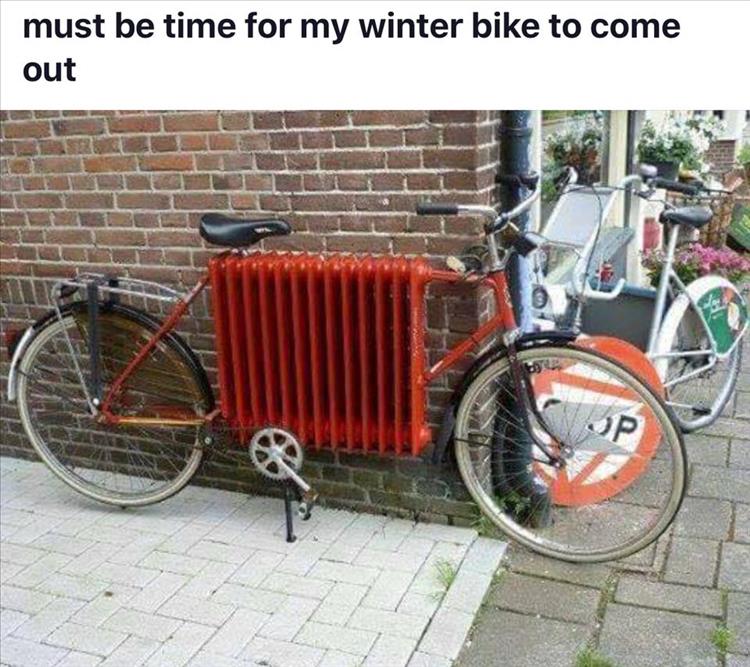 11/12/2017 07:59:20 UTC
---
Ren - The Ed said :-
If I can barely walk on the footpaths I figure I'll struggle on an icy road.
11/12/2017 07:17:37 UTC
---
Ian Soady said :-
That of course should be TT100s.......
07/12/2017 10:20:22 UTC
---
Ian Soady said :-
Always managed with TT1000s on the Commando even during the winter of 1980-81. I have to admit it was scary going downhill being tailgated by a 10 ton truck however.
07/12/2017 10:19:59 UTC
---
Ren - The Ed said :-
Snow this weekend apparently. Hopefully nothing too serious but it could rather mess with my plans. Despite years of motorcycling I still haven't worked out how to ride on snow while the bike is fitted with regular road tyres.
06/12/2017 12:18:03 UTC
---
Ren - The Ed said :-
Yeah that's great that Borsuk. 22 degrees huh, how awful, I bet you had to break out a jumper.

Meanwhile here in blighty the conditions have returned to dull, grey and slightly wet. Normal service has been resumed.
05/12/2017 13:14:55 UTC
---
Borsuk said :-
I was worried about ice here at work this morning as the temperature had dropped down to 22°c during the night, fortunately there was nothing to worry about.


I know. I am evil.
02/12/2017 20:20:39 UTC
---
---
_