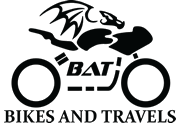 Home
Contribute
Contact BAT
Chit-Chat
BAT Facebook Page
BAT Stickers!
Ren's Biking Blog
Sharon's Biking Blog
Guest Posts
Bike Reviews
Bike Gear Reviews
Bike Tips
Travel Stories
Travel Tips
Repair And Restoration
Interesting Links
Support BAT
Welcome To Bikes And Travels...
...It's about bikes...and travels...mostly on bikes!
What's New?
Exploring Around St Davids In the land of a thousand coves Sharon and Ren are looking into a handful of them. There's a chance Ren's 500 might not be getting out of one of them though.
---
8,000 Mile CB500X Review (& Service) After 8,000 miles Pocket Pete takes a moment to share his thoughts on his CB500X. He's also learning how to look after his motorcycle too. It's not an easy task but he seems to be getting there.
---
Exploring St Davids - On Foot It is time to leave the bikes for just one day and set out on foot to explore the tiny city of St Davids. The city is small and pleasant, the cathedral is just sheer delight.
---
Z250SL Radiator Fan Protector Rather than bodge the radiator fan cover between Sharon and Ren they create a better looking and more permanent fixture.
---
Bracing Winds And Wobbly Hobbits Between the rain and the beauty Sharon's riding is creating mixed emotions for her and Ren is getting giddy over a TV programme.
---
Tappets, Shims And Plugs It's the big job, the tough task, the one Ren's been dreading. It's time to take the top off the CB500X and do the tappets and plugs. Wish him luck, he'll need it.
---
Exploring Around Tywyn Mid Wales provides an engaging, gorgeous and sometimes challenging landscape to explore. With all the sea, hills, mountains, valleys and single track lanes that go nowhere, our explorers are exploring.
---
CBF 125 Oil Consumption Ren's old 125 is already very worn on the outside. It seems it must be getting worn on the inside too. Is it time to rethink the service intervals?
---
Into Tywyn Finally Sharon and Ren get themselves out of the house and onto the road. They've set out, but have they got everything?
---
Not Even Wales! With a storm set to cause havoc across the UK is this day the best day to set out on a camping holiday? Maybe not.
---
Latest Posts
Z250SL Radiator Fan Protector Ted said :-
CB500X screen....FINAL?

maybe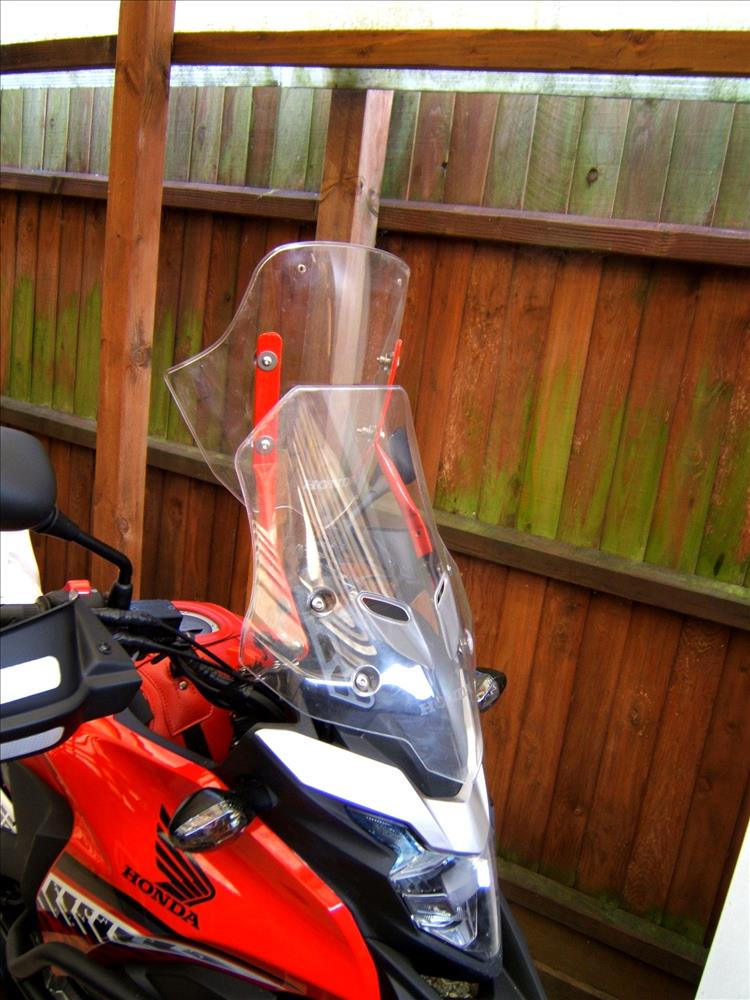 19/10/2017 07:47:42 UTC
---
Daytona Lady Star GTX Boot Versus Daytona Lady Pilot GTX Boots & Initial Review Of Pilots Pocketpete said :-
Really tight when you buy them. But they soon stretch and break in to fit nicely. Make sure you use the Daytona cleaning gear to ensure the leather stays nice and supple.

Seriously thinking of buying my hobbit a set. She only goes on the bike a few times a year so not sure if it's worth it but they should last year's.
19/10/2017 07:47:18 UTC
---
Z250SL Radiator Fan Protector Ted said :-
CB500x Screen....Update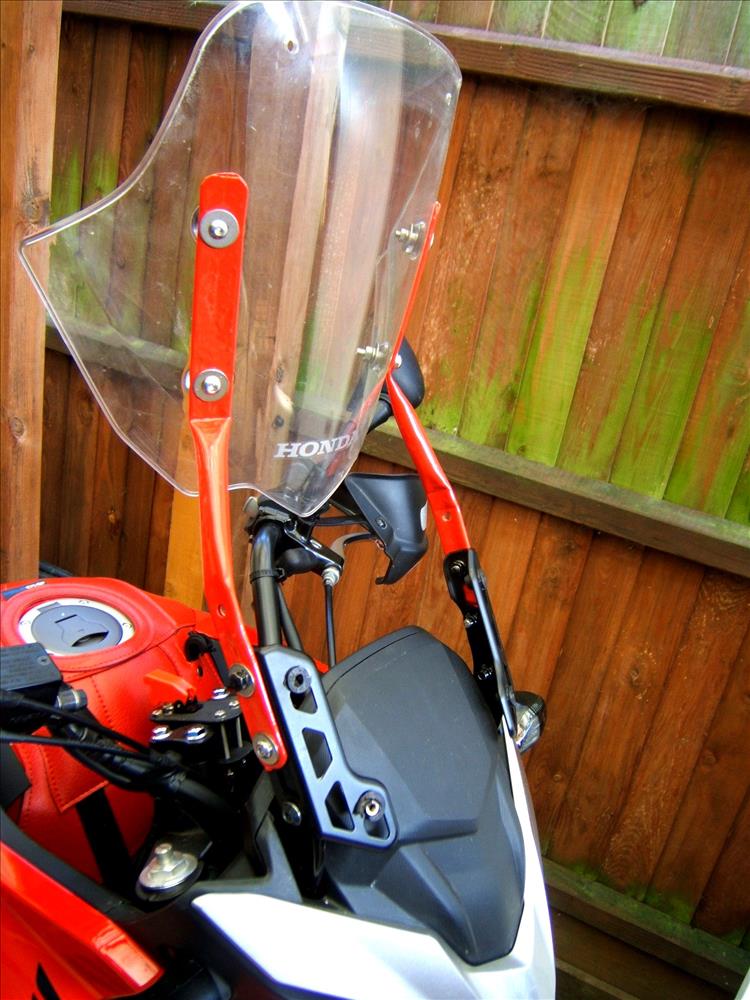 19/10/2017 07:45:29 UTC
---
Z250SL Radiator Fan Protector Ted said :-
Screen pic UPDATE 2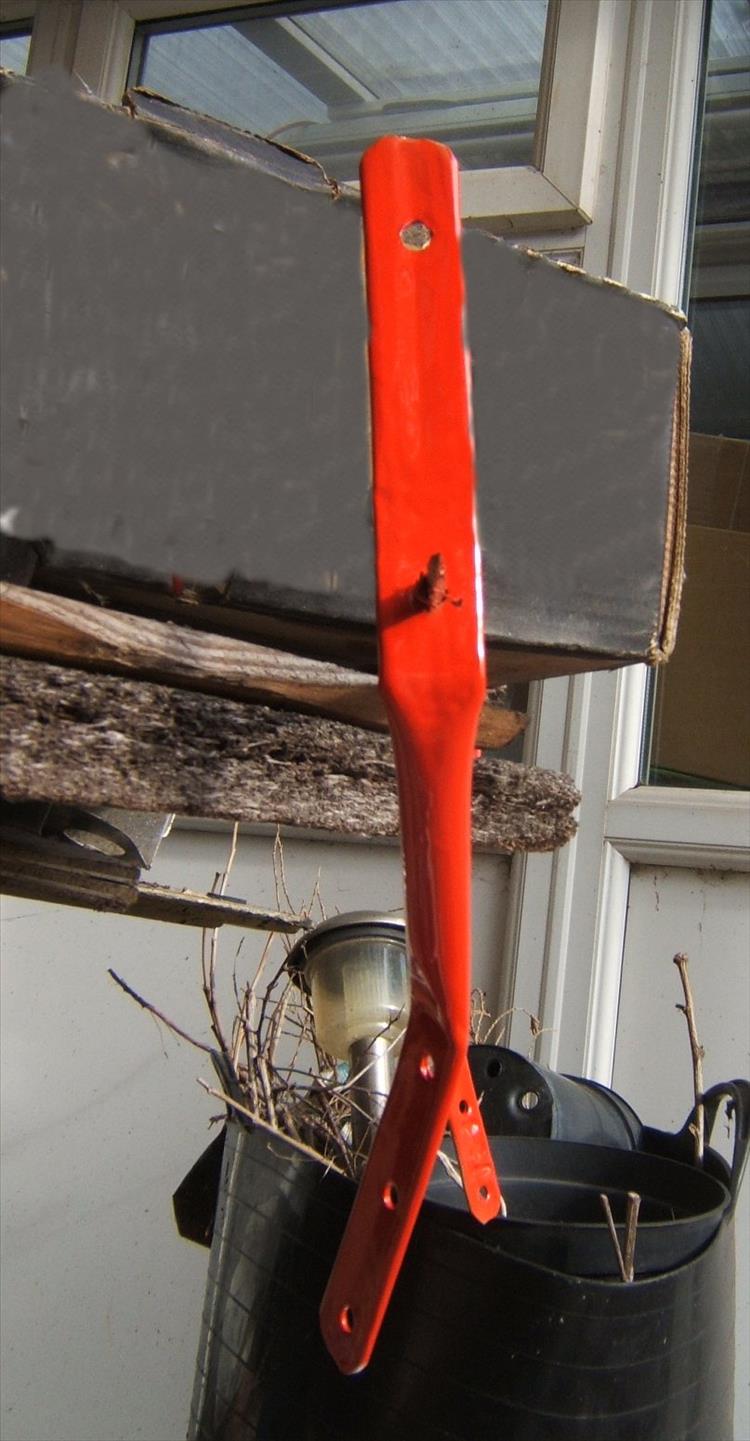 19/10/2017 07:42:50 UTC
---
Z250SL Radiator Fan Protector Ted said :-
"Lack the will to try", yeh right....
I think Sharon should be rightly proud of your modifications.
perhaps all of their new 250s should be supplied with a free paint tray?

Since spending a whole £5.00...+ another fiver on P&P for a short original screen for the CB500X, I have been out playing.
Probably getting more frustrated at NOT getting it right.
I'm still not sure I am totally happy with this screen set up.
It does now deflect over my previously battered crash helmet.

I had tried the short screen at the bottom, and then bolted my longer screen above it...NOPE.
Tried my original 2016, longer screen with a Give A660 I had clamped on to the bars....novel idea as the givi was an inner screen and obviously moved when steering.
Still not happy.
Sooo, sorting out some 1/2" steel tubing, flattened off the ends enough to be able to bolt on to the screen (needs a bit of a twist in the tube) and the other flats bolt onto the sides of the original screen brackets.
You can probably see I have this set quite high at present, thus working on the theory I can lower by the couple of inches on the bracket, OR If need be later, cut the bracket down and drill a couple more holes....only time will tell.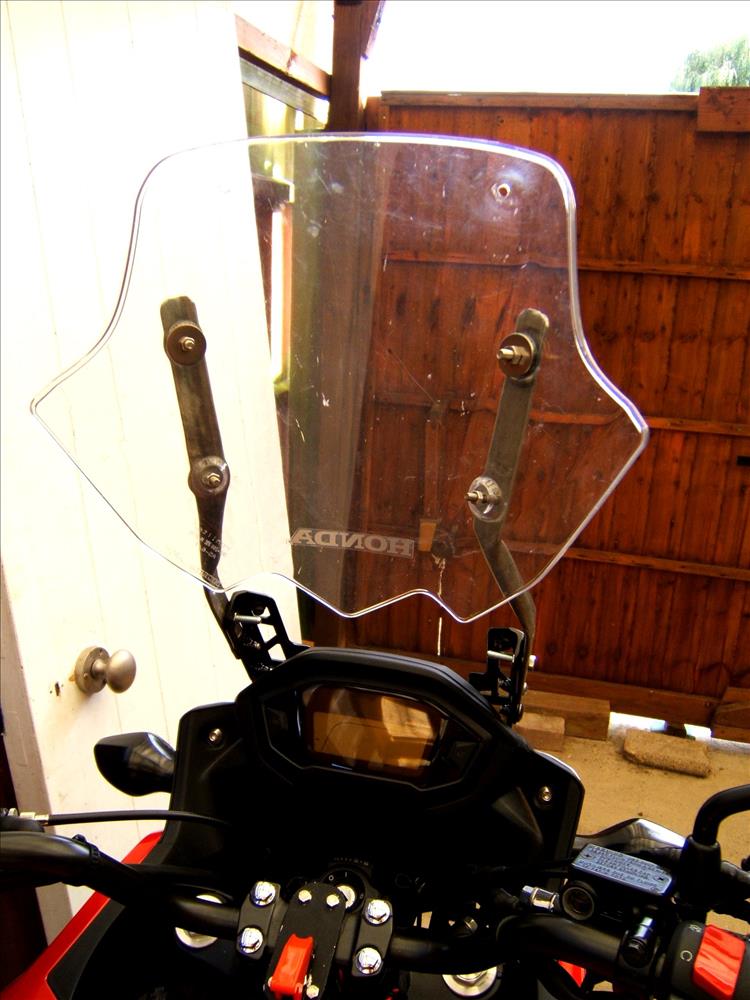 19/10/2017 07:39:18 UTC
---
Daytona Lady Star GTX Boot Versus Daytona Lady Pilot GTX Boots & Initial Review Of Pilots Sharon said :-
Hi Nidkid,

Haa I surely hope the boots are as good as I said too.
Mine have since this review been put to the waterproof test a few times now. Especially in the downpours of Wales they got a good drenching. Pleased to report so far so good but I wasn't expecting anything less.
They have eased off tightness wise around the ankles even more now and I can put my usual winter wear of 2 socks underneath them very comfortably.
Hope you love your Pilots too when you get them. That extra height helps us little ones so much.
18/10/2017 17:36:29 UTC
---
Keeway Front Sprocket Kieron said :-
Hi everyone i have a keeway tx 125 and im having trounle finding a front and rear sprocket set for it... can anyone help! Alls i know is that the back sprocket is a 50 tooth n the front is 13 teetg
18/10/2017 14:48:58 UTC
---
Daytona Lady Star GTX Boot Versus Daytona Lady Pilot GTX Boots & Initial Review Of Pilots Nidkid said :-
Hi! Thanks for your very detailed review. I just ordered a pair of the pilots based on this! I hope it's as good as you say it is:-)
I am a new short rider, so can't wait to have these to give me a wee bit of height!

18/10/2017 14:47:15 UTC
---
Honda SH125 Mode Test Ride Review Sharon said :-
Hi Ray,

The SH Mode will be the name that is has been given by the manufacturer to market the product. The ANC 125 will be the model number. The F on the end may be the actual colour of the the scooter or some other specific feature.

For example I own a Kawasaki Z250SL. The owners manual is for a BR250 EF The V5 shows the model as BR250 EFS. I believe this S denotes the colour green of my bike.
If my bike had ABS it's model number would be different as in BR250 FF.

Hope this helps.


18/10/2017 13:44:07 UTC
---
Cleaning Blue Dot Bike Brakes (Fazer) - By Ren Withnell R6zer said :-
Cheers buddy you're a legend!
18/10/2017 12:39:02 UTC
---
See all older posts
Latest Chit-Chat
Go To Chit-Chat Matt Mac said :-
Dear Editor,my wife has just went on a short cruise, to Scotland .She is going to see her sister in Great Harwood ,that's in you guys part of the world . When Eileen heads of I can do as I want . If I ever get the Honda taxed and I visit my sister in law I could buy you a cup of tea .

18/10/2017 20:49:39 UTC
---
Ren - The Ed said :-
Oh bless Ian, poor fingers.

I'd like a short cruise just to sample the high life and eat all the food. I can't imagine me in a tuxedo though dining at the captain's table. After a day or two though I think I'd be ready for a change.

But then what kind of fool takes a tent and a motorcycle around the cold wet and windy UK? I think I need my bumps feeling.


17/10/2017 17:40:50 UTC
---
Ian Soady said :-
.... must be the Greek weather getting to my typing fingers....
16/10/2017 13:35:44 UTC
---
Ian Soady said :-
The thought of a cruise makes me shudder - you'd probably get stuck with that bloke who rabbits on and on about old motorbikes.

At leat here you can ignotre him.......
16/10/2017 13:34:55 UTC
---
Ted said :-
I have never been on a world cruise......still so many places in the UK I ain't seen yet.

PLUS, once you have done ONE world cruise.....where can you go next n not get bored?


just asking.
15/10/2017 19:59:23 UTC
---
Borsuk said :-
Not as many as there used to be but still lots.
06/10/2017 12:37:03 UTC
---
Ren - The Ed said :-
Over 100,000 tonnes? By eck you wouldn't wanna drop that on your toes. There ain't that many boats over 100k are there?
06/10/2017 06:58:59 UTC
---
Borsuk said :-
That's my area of expertise, as long as it is over 100,000 tonnes. :-)
05/10/2017 23:29:36 UTC
---
Ren - The Ed said :-
Oh lordy, don't be asking me how to register a boat!
05/10/2017 13:14:29 UTC
---
Matt Mac said :-
Dear Editor ,we are different in as much as we have a set of regs for each county,3 letters always ending in z followed by up four numbers. Unless you lived in N Ireland it would be hard to know what age a vehicle is as unlike the mainland or S Ireland with age related plates.If I had bought a bike in the mainland prior to Swansea taking our motor tax system over it would have been an import,a 3 year old motor would have had a mot at 4 years.I was just interested if someone had tried to tax a vehicle that had been of the road for years. I'm glad in a way as it has rained almost every day from I bought the Honda, usually twice a day 11 hours and then mostly 13 hours or vice versa , perhaps should have bought a boat !???

04/10/2017 17:42:54 UTC
---
---
_