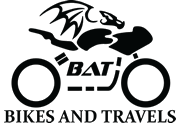 Home
Contribute
Contact BAT
Chit-Chat
BAT Facebook Page
BAT Stickers!
Ren's Biking Blog
Sharon's Biking Blog
Guest Posts
Bike Reviews
Bike Gear Reviews
Bike Tips
Travel Stories
Travel Tips
Repair And Restoration
Interesting Links
Support BAT
Calculators And Converters
Welcome To Bikes And Travels...
...It's about bikes...and travels...mostly on bikes!
Sharon might be packing a pistol to shoot Ren with...
What's New?
In Honour Of Stop n Tail Bulb Ren is mourning the loss of a long standing and reliable friend. It's a bulb. A tailight bulb. For goodness sake.
---
Blink Of An Eye Sharon has an interesting day poking around north west Spain. There's a something of a shock in store for the evening.
---
Time For New Tyres Latchy's been busy fitting new rubber to the Striple. It's a dirty job but someone's got to do it. Awwww bless.
---
Dam Lost Fearing the weather Sharon is braced for a drenching. Thing is the weather isn't really the problem.
---
Sharon's First Test Ride Ren's having a flap because Sharon is doing something that many many motorcyclists do.
---
Errrrrm - Devon? There's another minor adventure afoot! The Americas? The Far East? Africa? No, the clue is in the title.
---
Final Thoughts On Spain Ren crosses the T's and dots the I's on the Spanish trip.
---
The Ferry Home It's the dynamic muppet's last day in Spain so it's time to catch the ferry. A mixture of sadness and relief for Ren, but what about the other riders in the queue?
---
Burgos Bimble Sharon explores the city of Burgos, Spain. Architecture, stone masonry, pilgrims and tempting food. But can a city really endear itself to this country girl?
---
Llangollen Bike Fest 2018 Sunshine and shameless self promotion. It's a weekend away for Ren with the Chunky Tread crew. The Llangollen Bike Fest provides the people and entertainment.
---
Latest Posts
Long Term Review of the Honda SLR 650 - By Ren Withnell Dropback said :-
Just got my bike and got clutch problems already
It creeps in gear and won't go into neutral unless I turn it off
It's biting at end of lever but not slipping
Grateful for any help
Ian
18/09/2018 22:24:38 UTC
---
Errrrrm - Devon? Ren - The Ed said :-
DOH!! I'll pin Sue down next time I see her.
18/09/2018 21:07:22 UTC
---
Kawasaki Z250SL Battery Access Borsuk said :-
I fitted a 4 socket car lighter extension unit inside my top box. Each socket is individually switchable. I leave it permanently connected to the battery with its own inline fuse.
Works well and so far hasn't drained the battery after 3 months of non use of the bike so the switches must work.
Though if it was flat not exactly the end of the world. It also it allows me to charge the battery through it which I presume Sharon's can do as well.
The boy's CBR500 had a battery charging connection fitted by the previous owner when he got it, different make from my charger but there was an adapter for a 12V socket available so we can now charge his bike with my charger without faffing about with the battery terminals, in fact all the family vehicles are set up for charging without accessing the battery compartment. Some have direct connections as their power socket goes through the ignition. I usually run them through a maintenance cycle around October to see if the batteries will be okay for the winter.
18/09/2018 19:47:42 UTC
---
Errrrrm - Devon? Rod said :-
Just looked on Google Maps 'street view' It is not the bridge in Lynmouth.
18/09/2018 17:12:13 UTC
---
Kawasaki Z250SL Battery Access Ren - The Ed said :-
Well the PRIMARY and most important purpose of the power socket is...for...hair straighteners. I don't believe she could use these while riding.

But yes she can charge on the go. I discovered the best way for myself to keep everything charged works thusly. During the day when I'm on the bike under the seat I am charging a USB power pack. I have my phone etc "to hand" rather than under the seat. Then at night the charged power pack is used to charge the phone, the torch, my e-cig and even my tablet if I have it with me.

Sharon's space under her seat is barely big enough for a phone! So she too has a power pack but a smaller one. We have also now fitted a USB wire from the socket under the seat to a Sat Nav case on the bars - in case Sharon needs to Sat Nav.
18/09/2018 07:41:43 UTC
---
Kawasaki Z250SL Battery Access David said :-
Aha, so you didn't decide to mount it so that she can charge on the go? What does she use it for?

18/09/2018 07:13:18 UTC
---
The All Female Slapper Day Out Sharon said :-
Hi NigelS,
The trouble with tank slappers is there is no set reason why they happen. No one really seems to know why. Many theories abound but there is no consensus.
Therefore when you have one there is no one answer, no one fault to rectify.
Thanks for the suggestions as all possibility are worth considering. In my case at the time of event I was not carrying anything on the back of the bike other a very small bag with only a jumper and disc lock in. Headset was not a problem either but like I say all suggestions welcome so thanks for putting these forward to me.
18/09/2018 00:59:14 UTC
---
A Look At The Himalayan Ren - The Ed said :-
Having read the link.

MotoGB. Based just about 2 miles from my house. Also the same "group" KJM owns every main dealer in this area save for Honda who apparently won't have anything to do with them. You cannot buy a Kawasaki, Yammy or Suzuki around here without funding MotoGB. Of course you can't buy a Keeway, Benelli, Enfield or quite a few other marques anywhere in the UK without MotoGB as they are the UK importers.
17/09/2018 17:47:01 UTC
---
A Look At The Himalayan NigelS said :-
Royal Enfield has a big problem with quality, not only with the Himalayan on which production was suspended for 6 months in the summer of 2017 whilst 'quality issues' were dealt with (delaying the launch in the UK) but also on the long running Bullet 500 EFI and the Continental GT535. On the latter model at the Ace Cafe to Brighton launch in October 2013 motor cycle journalists were reporting that they experienced severe vibration - but only on some machines which is worrying as that shows lack of consistency in the machining of the crank and an absence of any quality checking. I have owned two Bullet 500 EFI's and two Continental GT 535's in the last four years. My first Bullet was built in 2011 when production was at about 100,000 units per annum. Over the next 6 years production went up to 1/2 million units . . . . no company this side of the moon can recruit and train staff at the rate required to ramp up production to such levels and maintain quality. I can expand further - if you want a good laugh then have a look at this link http://www.hitchcocksmotorcycles.com/forum/7/16644/Tossers#post_102449
17/09/2018 13:59:02 UTC
---
The All Female Slapper Day Out NigelS said :-
Sorry to hear about the tank slapper, always frightening on a big or little bike. The Heidenau could well be to blame but it might be worth looking at two other possible causes; worn or loose headset and/or unbalanced load with too much weight over the back wheel. Just a thought.
14/09/2018 12:40:02 UTC
---
Latest Chit-Chat
Go To Chit-Chat Henrik said :-
Hi Nigel ,.. we got these small Benellis in DK also, great fun-factor I guess, it seems to fit you well, I look forward for the review :-)
15/09/2018 19:57:33 UTC
---
Ren - The Ed said :-
Remember NigelS men don't grow up our toys just cost more.

We aim to keep things clean and relatively friendly here. We're all entitled to our opinion but we don't need to be rude about anyone else's.

If you'd like to review your rather smart looking Benelli then drop me a line ren@bikesandtravels.com

Now you be careful on that bike, I'm not sure it might be a tad too tall for you.
14/09/2018 19:58:54 UTC
---
NigelS said :-
WHAT A GREAT SITE! So glad I found BAT - seems friendly and good humoured and totally free of rude people and trolls! I read some comments about 'age marketing' in one of the posts about Sharon's Kwacker 250 explaining how manufactures aim certain bikes at different sectors. Well, I don't know where I fit in as I'm 70 and just bought a 17 year old's bike . . . however my wife will tell you my mental age hasn't actually progressed at all over the intervening decades! If it is of interest I'll put up a full review in the next week or so.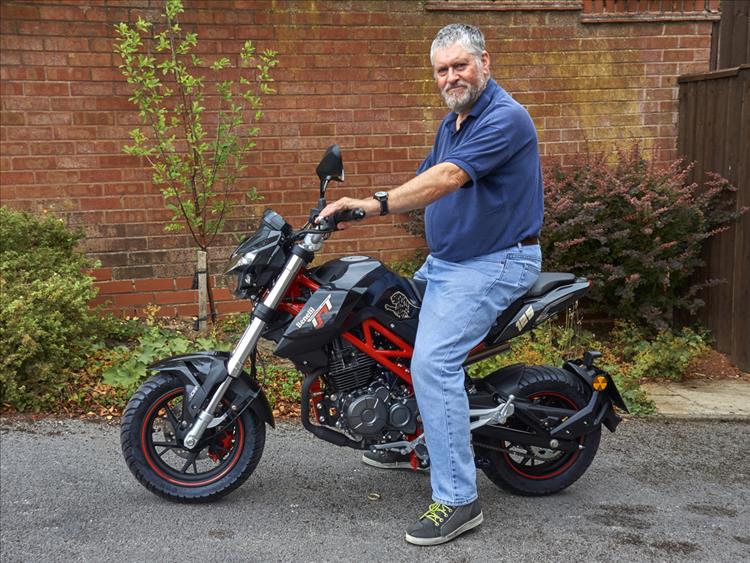 14/09/2018 07:14:45 UTC
---
Ren - The Ed said :-
Sorry there's been no updates or new posts this week. I'm afraid Sharon has kidnapped me and is holding me against my will in a static caravan in Devon. The torment is nearly over and I can return to the joys of working next week.
13/09/2018 21:31:30 UTC
---
Henrik said :-
Machines became larger, becourse mankind became larger, much larger

So seems logical

Few generations 10 inches or so ,.. can se it in my old house

Only problem, they should be even larger,. (higher)

My hight 1.83 cm is normal in DK ,.. most MC's feels like from the toystore
02/09/2018 01:46:54 UTC
---
Ian Soady said :-
"I suspect however most of the increase in motorcycle dimensions is driven by fashion rather than the average human size."

Absolutely. Just one reason I wouldn't have most of the modern bikes as I can't even get aboard them!

The actual dimensions of, say the Norton are probably not too different from a modern bike of similar performance. Wheelbase 55 - 56 inches, seat height 31 inches or so, weight around 380 lb. If you read something like Phil Irving's Motorcycle Engineering, he points out that most bikes actually have to conform to fairly restricted dimensions. In fact the only one relatively unconstrained is the height!

01/09/2018 15:43:30 UTC
---
Ren - The Ed said :-
775mm. Looking at the older bikes is it me or were they actually smaller? This begs the question - why have the modern machines become larger?

I am all to aware - having been out last night with Sharon's daughters and friends - that the yoofs of today appear to be taller. Or...maybe I'm just hanging out with the wrong yoofs. I suspect the "average" human in western society is taller than we used to be say 40 years ago but it's probably only an inch. I recall reading the far eastern averages are increasing quite rapidly due to dietary changes.

I suspect however most of the increase in motorcycle dimensions is driven by fashion rather than the average human size.
01/09/2018 13:48:33 UTC
---
Ian Soady said :-
Thanks Rod & Ren.

I don't intend to use it much before autumn sets in but need to find out what needs doing (an extensive spreadsheet is building up). The Guzzi is now going very well so will spend more time riding that.....

The ES2 actually has the same saddle height as the Guzzi at 31" (775 mm).....
01/09/2018 10:15:33 UTC
---
Rod said :-
The Norton looks and sounds great Ian.
Still a few good months left this year, so enjoy it.
30/08/2018 20:57:07 UTC
---
Ren - The Ed said :-
Lovely. You are rather too tall for such a machine though. You need a shortass like me to ride it for you.
30/08/2018 19:18:14 UTC
---
---