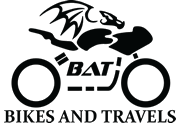 Home
Contribute
Contact BAT
Chit-Chat
BAT Facebook Page
BAT Stickers!
Ren's Biking Blog
Sharon's Biking Blog
Guest Posts
Bike Reviews
Bike Gear Reviews
Bike Tips
Travel Stories
Travel Tips
Repair And Restoration
Interesting Links
Celebrate! The 8mm Socket Is Found
Support BAT
Calculators And Converters
Welcome To Bikes And Travels...
...It's about bikes...and travels...mostly on bikes!
Sharon might be packing a pistol to shoot Ren with...
What's New?
Bikes And Walking PocketPete asks a very important question. Can you ride a motorcycle then go for a hike? It is rather spoiling his days out.
---
Head In The Clouds Sharon is calmed by the wonders of Northern Spain's wondrous scenery as she returns to the comforts of Potes.
---
Wandering Home From Shell Island Do hot water bottles work in sleeping bags? Will the dynamic muppets ever get off the island and back home? No-one really cares.
---
Blasted Brake Reservoir Bolts What do you call an ape with a Dremel, a sharpened screwdriver and a hammer next to a motorcycle? Ren, you call it Ren.
---
Z250SL And CB500X Brake Fluid Change Whether or not the brake fluid needs changing it is getting changed on Sharon's Kwak and Ren's Honda. More mechanical malevolence
---
Weird 125 Oil Usage Old engines use oil, it's inevitable. What is puzzling Ren is the ever changing amount of oil the long suffering CBF is burning.
---
Pack Neatly Or Lob It In Is it better to be all neat and tidy when packing clothes for a trip or to just lob them in and squish them down? Ren is doing real science to find out conclusively.
---
Dartmouth, Slapton and Salcombe South of Brixham the coastal landscape is proving to be quite rural and enjoyable for Sharon and Ren.
---
Shivering At Shell Island It may be cold but it's a beautiful autumnal day to be riding through North Wales' finest scenery. There's warmth to be found in the evening too.
---
Shell Island Shenanigans It may be cold but North Wales is beautiful in Autumn
---
Latest Posts
Bikes And Walking Bill said :-
Judging by your picture Ren, Sharon already has the pack horse sorted :-)
20/11/2018 22:18:17 UTC
---
Bikes And Walking Ross said :-
As Ian says, not too much bike specific gear. My footwear of choice is a pair of Doc' Martin's...they take a bit of wearing-in but after that I find them comfortable to walk in and they 'should' be robust enough to offer some protection if the worst happens! There's plenty of choice in motorcycle trousers that look like regular jeans but are lined with various materials to offer abrasion resistance in a crash ( I've currently got a pair of Hood jeans that look like regular cargo trousers but are lined with polyaramid and I find them comfortable in all but the warmest of weather...they also have internal pockets for body armour but I've not gone down that route). If you've got a bulky jacket with body armour fitted that can be a problem to stow on the bike...I have seen riders run a long chain through the arms of a jacket and padlock the lot, including helmet's, to the bike but I've not tried that myself!
20/11/2018 12:28:46 UTC
---
Bikes And Walking Ian Soady said :-
Of course, the real answer is not to dress like a spaceman but to wear comfortable boots (I always like the German para boots), ordinary trousers and a textile jacket. The helmet and gloves go in the top box and you're good to go......
20/11/2018 11:53:45 UTC
---
Bikes And Walking Ren - The Ed said :-
I'm glad to read you're taking this delicate issue as seriously as it deserves Upt'North.

I'm fairly sure the donkey will require wheels. However castors may prove unstable. I have improved on your patent because I've going to use roller skates. This will be a better and more stable attachment to the hoof. My only concern is high speed donkey poop on the motorways.

I do not own a garage to tidy up, chance would be a fine thing. Look don't tell me how manage my shed up and I won't tell you how to write wise-ass (sic) replies to comments in my blog.

No northerner's feelings were hurt in the making of this comment.
20/11/2018 11:44:48 UTC
---
Bikes And Walking Upt'North said :-
No donkey's, Ass's or mules were hurt in the process of writing this post.
20/11/2018 11:33:07 UTC
---
Bikes And Walking Upt'North said :-
Pocket Pete,
Lovely piccies of Derbyshire, brings back nice memories. But please refrain using the term "exercise", you brought me out in a sweat.
Now Ed, I've given your and our conundrum some thought, not much, it hurts. Yes carrying jackets, gloves, helmets, spare sprockets and chain isn't all its cracked up to be. Worse as well when you're riding in warmer places. We are fortunate because on day rides we can pretty much store everything away on the bike, but when travelling further afield obviously the bags are already filled to bursting.
Well here it is, don't tell anyone else, I might patent my thoughts. Why don't you tow a donkey behind you. I don't know how quick a donkey can run so we may need to devise hoof wheels for said equine carrying device. Park up at your destination and load the Ass up. Walk it round, let it eat a bit of FREE grass and then hitch it up again.
Whilst you are parked up you could even sell donkey rides to cover fuel costs.
It's foolproof.
Keep it to yourself and have you got any old castors you don't need. Although I doubt you'd find them unless you've tidied up that garage.
Upt'North.

20/11/2018 11:24:17 UTC
---
Bikes And Walking Ren - The Ed said :-
The only other thing would be a trailer, as much discussed on here. You'd have plenty of space then.
20/11/2018 10:23:24 UTC
---
Bikes And Walking Ren - The Ed said :-
It's a shame when I can't use my own system...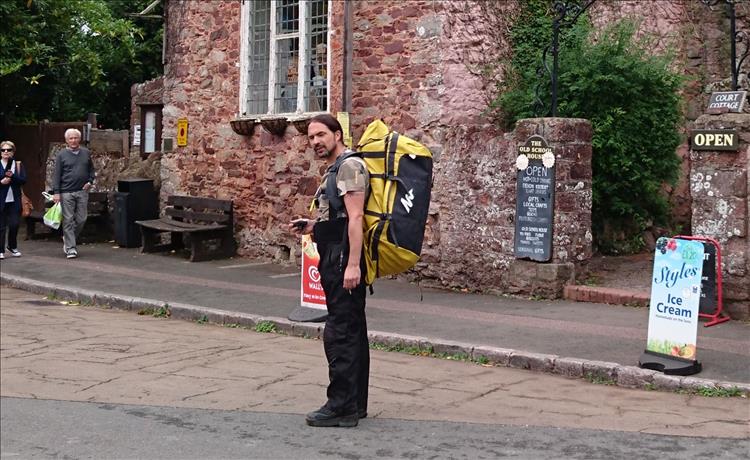 20/11/2018 10:16:30 UTC
---
Bikes And Walking Ren - The Ed said :-
In the pic you'll see I have a huge bag on my back. The helmets are locked to the bike via a chain, in the bag I have BOTH jackets and BOTH pants and Sharon's back protector, I'm wearing mine. It works...but it is not perfect. On a long walk carrying the bag would be tiresome. It's so big it's actually a danger in shops and tight spaces. I still have my bike boots on.
20/11/2018 10:15:47 UTC
---
Bikes And Walking Ren - The Ed said :-
Sharon and TOTALLY get this! While I'm not a big hiker my thing is visiting places. Be it an interesting cave or a motorcycle museum it really is a pain in the ass carrying bike kit.
20/11/2018 10:09:22 UTC
---
Latest Chit-Chat
Go To Chit-Chat Upt'North said :-
Jammy, look familiar?
Jim, small world. The cafe doesn't do too bad during the tourist/riding season. Not unusual to see the car park full of German/Dutch GS's.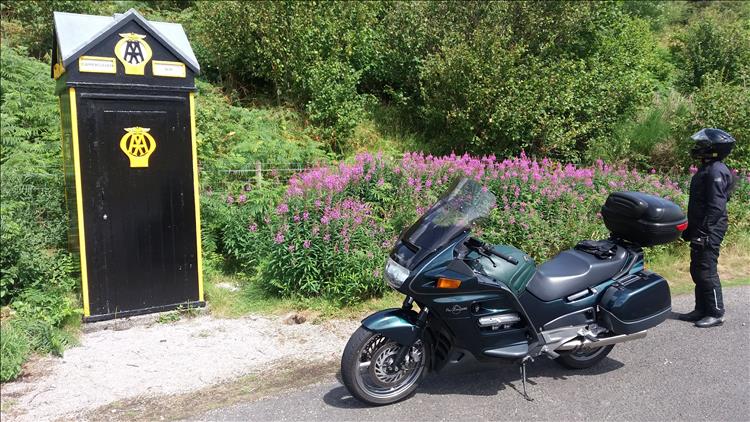 18/11/2018 23:04:25 UTC
---
Jim said :-
Thanks for the replies, folks. Ren, the helmet was the only one the Honda dealer had for my xxxl head that didn't cost more than the bike (nearly, anyway). That said, I'm rather enjoying being conspicuous - combined with my hi-vis green jacket the effect must be startling, and there's no harm in being seen.

Upt'North - just for interest, I passed through Wooler today on my way home from Leeds. I've travelled the A697 four or five times a year since 1966, first - obviously - as a passenger in my parents car, and later when visiting them. Always stop at the cafe at Millfield, it's looking pretty quiet these days, which is a shame.

Jammy, I know the temple you're talking about, on the Ettrick to Langholm Road. Some of the finest roads anywhere to be found in that locale - the Newcastleton to Hawick road is amazing, winding switchbacks, humpback bridges and beautiful scenery - with the added bonus of the Whitrope railway heritage centre halfway along.
18/11/2018 21:02:00 UTC
---
jammy said :-
Back in 2010 lived in the Scottish Borders for a year, WOW only working 3 days a week left plenty of riding time. I was inbetween Galashiels and Peebles. I used to do regular 100 mile rides in a loop south taking in Talla Water/St Marys loch/Meggit water nearly all on quite B roads/single track roads, some places I'd ride without my helmet. Somewhere in there is a Budhest temple you can stop at and look around, the roads perfect for cub speeds...It was so scenic I even did this regularly in the winter...Seem to have lost of me pics though
18/11/2018 16:34:28 UTC
---
Upt'North said :-
Nice piccie Jim.
We are hoping to spend some time riding further North in Scotland next year.
We haven't been much further North than Perthshire for a number of years so it's about time we did. Although strangely since someone decided to name the NC500 it is less attractive. I'm told that the route around the top of Scotland is getting quite busy, it must be 20 years since I was up in Tongue and even in the summer it was very quiet.
Thanks again Jim.
Upt'North.
18/11/2018 10:10:17 UTC
---
Ren - The Ed said :-
That looks very early Jim. It's another splendid picture and that's a proper helmet colour.
18/11/2018 10:08:54 UTC
---
Jim said :-
East coast of Scotland is underrated sometimes. Early yesterday morning at St Andrews.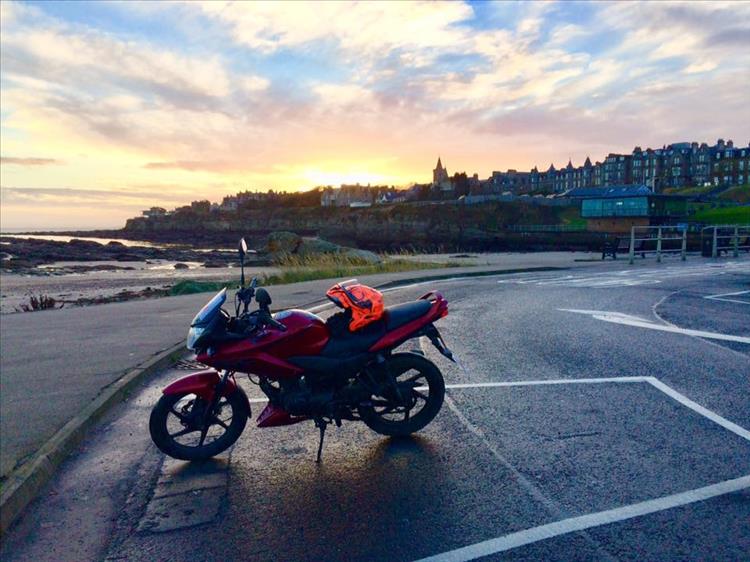 18/11/2018 07:21:35 UTC
---
Ren - The Ed said :-
Upt'North, your image is very good so stop apologising. I've added a star to North Berwick on my google maps and I'll see if I/we can get up there to see for ourselves. Yes you are lucky. Mind you, bet it's a bit grim up there in the deepest darkest winter.

Jawa brings forth images of Eastern Bloc 2 strokes looking similar to MZs but somehow with their own (even more) quirky style, prone to breaking down yet always very easily fixed. I've not done any research but these images make me think of India buying the brand and setting out to compete with Enfield? I'd need to research. Power is fine with 27bhp matching Sharon's 250 and that's more than enough. Build quality - that will be in the hands of the manufacturers. My CBF125 was made in India and the build quality there is fine. Interesting link thanks.
17/11/2018 15:47:29 UTC
---
Ross said :-
I like the look of these https://tinyurl.com/ycpjq6kf but don't know if they'll come to the UK. Nice low seat height and the red bike looks like it's got sensible mudguards (shock!), possibly could do with a bit more power and the build quality might be 'iffy'!
tinyurl.com/ycpjq6kf ...
17/11/2018 10:49:35 UTC
---
Upt'North said :-
Firstly I apologise for the piccie as it doesn't do the area justice, but yes that's North Berwick looking out towards the Bass, an area of SSI owing to the gannet colony. So what you are looking at is the Firth of Forth, hope I've got that the right way round. I'm guessing, again, but I'd say it's about 15 miles east of Edinburgh. The phone camera doesn't show it but the North shore was also visible. I've ridden, or driven this route many times but yesterday was special, the clear November air really opened up the views. You catch views of the coast on many occasions from Berwick-upon-Tweed upto North Berwick which must be about 30 miles or so. I know I'm fortunate to have this on my doorstep. It takes about an hour to get to North Berwick. Surprisingly there were lots of bikes out too for a Thursday.
Ta.
Upt'North.
16/11/2018 18:34:46 UTC
---
Ren - The Ed said :-
Is that The Pacific Coast Highway or North Berwick? It's hard to imagine comparing the 2 but I must remind myself that we do live in a stunningly beautiful country.
16/11/2018 16:33:17 UTC
---
---