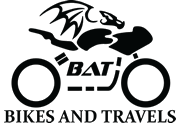 Home
Contribute
Contact BAT
Chit-Chat
BAT Facebook Page
BAT Stickers!
Ren's Biking Blog
Sharon's Biking Blog
Guest Posts
Bike Reviews
Bike Gear Reviews
Bike Tips
Travel Stories
Travel Tips
Repair And Restoration
Interesting Links
Support BAT
Calculators And Converters
Welcome To Bikes And Travels...
...It's about bikes...and travels...mostly on bikes!
Sharon might be packing a pistol to shoot Ren with...
What's New?
Benelli TnT125 Owner's Review Nigel brings to life Benelli's small, stylish and rather curious TnT125. Teenagers may love it but what about a septuagenarian?
---
Riding To Find Something Lost Sharon is in reflective mood pondering just how much motorcycling has changed her life.
---
In Honour Of Stop n Tail Bulb Ren is mourning the loss of a long standing and reliable friend. It's a bulb. A tailight bulb. For goodness sake.
---
Blink Of An Eye Sharon has an interesting day poking around north west Spain. There's a something of a shock in store for the evening.
---
Time For New Tyres Latchy's been busy fitting new rubber to the Striple. It's a dirty job but someone's got to do it. Awwww bless.
---
Dam Lost Fearing the weather Sharon is braced for a drenching. Thing is the weather isn't really the problem.
---
Sharon's First Test Ride Ren's having a flap because Sharon is doing something that many many motorcyclists do.
---
Errrrrm - Devon? There's another minor adventure afoot! The Americas? The Far East? Africa? No, the clue is in the title.
---
Final Thoughts On Spain Ren crosses the T's and dots the I's on the Spanish trip.
---
The Ferry Home It's the dynamic muppet's last day in Spain so it's time to catch the ferry. A mixture of sadness and relief for Ren, but what about the other riders in the queue?
---
Latest Posts
In Honour Of Stop n Tail Bulb CrazyFrog said :-
Led bulbs are the way to go, particularly on smaller bikes with lower output alternators. The initial expense may be higher (cringe), but replacing the tail/stop light, instrument lights and if required, indicators, frees up precious watts for powering the headlight and ignition.
21/09/2018 08:46:12 UTC
---
Benelli TnT125 Owner's Review Ren - The Ed said :-
That's an interesting thought Pocketpete.

I'm glad to hear people are linking their 125s. It's the future doncha know.
21/09/2018 08:02:56 UTC
---
In Honour Of Stop n Tail Bulb Ren - The Ed said :-
While I am the king of tightness even I have to admit...I'm ashamed to say...I...cannot fix the inner workings of a bulb. I hang my head in shame.
21/09/2018 08:01:10 UTC
---
Blink Of An Eye CrazyFrog said :-
Off topic Ian, as you say, but you may be surprised to hear that I really can't disagree with anything you say.
21/09/2018 07:49:06 UTC
---
Benelli TnT125 Owner's Review Pocketpete said :-
Great comprehensive review. I just wish bike manufacturers would just spend £ 500 quid more. When building a new bike.

Just put on those things bikers need. Such as peg springs. Longer front mudguard. Stainless bolts etc.

Maybe even offer a cheap version and a Ford ghia version.
21/09/2018 06:42:02 UTC
---
In Honour Of Stop n Tail Bulb Pocketpete said :-
Can't you fix it....
21/09/2018 06:29:15 UTC
---
Blink Of An Eye Sharon said :-
Thank you all for your condolences.
20/09/2018 23:46:26 UTC
---
Long Term Review of the Honda SLR 650 - By Ren Withnell Dropback said :-
Ok I'll have a go at adjusting it first
Thanks for the advice.
20/09/2018 21:55:06 UTC
---
Long Term Honda CBF 125 Review joe crennan said :-
mpg as mine albeit only 121mpg on the 240 mile trip home, the day I bought it. 8000+ rpm all the way with a foray into the red line to achieve 77mph. Tach is optimistic though ((by 600rpm above 5000rpm). I reckon speedo is and think perhaps 68 mph. I did get 157 mpg later (measured with 2.5 litres empty to empty)
I also have a Hayabusa but much prefer this
20/09/2018 20:42:41 UTC
---
Yamaha MT03 (2016) Test Ride Review MP said :-
Thank you.
The power is more than enough for first bike but not scary. Because is new until 1000 km I only reach 6000 rpm and goes pretty fast. Excellent suspension, easy handling, plus gear indicator.
But (oh yes there is a but) in the city I prefer my burgman 200.mt03 I have it only for weekend to go for a country ride. Open highway roads. 100 120 km/h I enjoy her.
Ride safe everybody.
20/09/2018 16:15:15 UTC
---
Latest Chit-Chat
Go To Chit-Chat Jim said :-
Thanks for the welcome, Ren. Yes, Elie is south of St Andrews. My route was from Cupar to Upper Largo, Elie, Pittenweem, Anstruther, Crail, St Andrews and back to Cupar - a very pleasant trip round the East Neuk of Fife. Luckily enough the photo was taken a couple of hours before I wrote the post - here on the East Coast we tend not to get much rain. Re the fine days, it's not that I mind getting cold and wet, it's more that I have literally no idea how the bike will behave in the wet. So far I've done about 600 miles since passing the CBT, all of them dry. I've been pretty tentative in the corners, proceeding on the basis that if I approach slower than I would in my car, and aim to exit faster, I should be OK. All well so far, but I'm certainly not exploring the limits of the machine yet.
21/09/2018 06:47:37 UTC
---
Ren - The Ed said :-
Evening Jim. I'm a little dishevelled after returning from a 70 mile ride in the tippling rain on my own CBF125. Cor blimey it's a bit rough out tonight.

I had to google Elie - I hope I got the right place just south of St Andrews? Looks lovely, bet it's not like that now.

Welcome to Bikes And Travels (BAT). Now don't go thinking you have to rush to get that DAS done, you'll be just fine on that CBF125 until the time is right. As for fine days - we've had a great summer this year but gosh only know what next year will bring. Make the most of the fine days but remember you're not made of sugar. A little rain (or a lot if you're determined) won't spoil a good ride.
20/09/2018 20:25:02 UTC
---
Jim said :-
Hi All - have had a great time over the last couple of days reading this blog. I'm new to biking at 53, just completed my CBT and have got myself a CBF125. Hoping to spend some time in the saddle on fine days over the winter and do DAS in the spring.

Here my trusty steed at Elie, on the East Coast of Scotland.


20/09/2018 11:44:36 UTC
---
Henrik said :-
Hi Nigel ,.. we got these small Benellis in DK also, great fun-factor I guess, it seems to fit you well, I look forward for the review :-)
15/09/2018 19:57:33 UTC
---
Ren - The Ed said :-
Remember NigelS men don't grow up our toys just cost more.

We aim to keep things clean and relatively friendly here. We're all entitled to our opinion but we don't need to be rude about anyone else's.

If you'd like to review your rather smart looking Benelli then drop me a line ren@bikesandtravels.com

Now you be careful on that bike, I'm not sure it might be a tad too tall for you.
14/09/2018 19:58:54 UTC
---
NigelS said :-
WHAT A GREAT SITE! So glad I found BAT - seems friendly and good humoured and totally free of rude people and trolls! I read some comments about 'age marketing' in one of the posts about Sharon's Kwacker 250 explaining how manufactures aim certain bikes at different sectors. Well, I don't know where I fit in as I'm 70 and just bought a 17 year old's bike . . . however my wife will tell you my mental age hasn't actually progressed at all over the intervening decades! If it is of interest I'll put up a full review in the next week or so.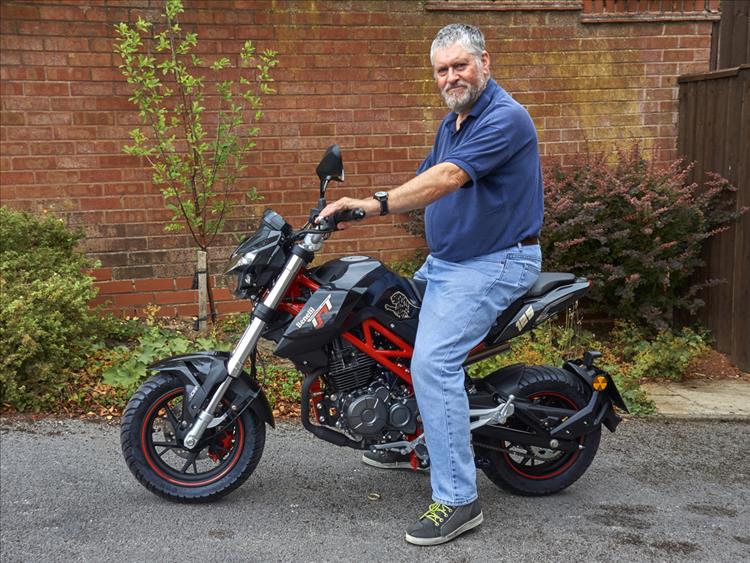 14/09/2018 07:14:45 UTC
---
Ren - The Ed said :-
Sorry there's been no updates or new posts this week. I'm afraid Sharon has kidnapped me and is holding me against my will in a static caravan in Devon. The torment is nearly over and I can return to the joys of working next week.
13/09/2018 21:31:30 UTC
---
Henrik said :-
Machines became larger, becourse mankind became larger, much larger

So seems logical

Few generations 10 inches or so ,.. can se it in my old house

Only problem, they should be even larger,. (higher)

My hight 1.83 cm is normal in DK ,.. most MC's feels like from the toystore
02/09/2018 01:46:54 UTC
---
Ian Soady said :-
"I suspect however most of the increase in motorcycle dimensions is driven by fashion rather than the average human size."

Absolutely. Just one reason I wouldn't have most of the modern bikes as I can't even get aboard them!

The actual dimensions of, say the Norton are probably not too different from a modern bike of similar performance. Wheelbase 55 - 56 inches, seat height 31 inches or so, weight around 380 lb. If you read something like Phil Irving's Motorcycle Engineering, he points out that most bikes actually have to conform to fairly restricted dimensions. In fact the only one relatively unconstrained is the height!

01/09/2018 15:43:30 UTC
---
Ren - The Ed said :-
775mm. Looking at the older bikes is it me or were they actually smaller? This begs the question - why have the modern machines become larger?

I am all to aware - having been out last night with Sharon's daughters and friends - that the yoofs of today appear to be taller. Or...maybe I'm just hanging out with the wrong yoofs. I suspect the "average" human in western society is taller than we used to be say 40 years ago but it's probably only an inch. I recall reading the far eastern averages are increasing quite rapidly due to dietary changes.

I suspect however most of the increase in motorcycle dimensions is driven by fashion rather than the average human size.
01/09/2018 13:48:33 UTC
---
---