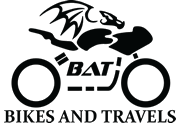 Home
Contribute
Contact BAT
Chit-Chat
BAT Facebook Page
BAT Stickers!
Ren's Biking Blog
Sharon's Biking Blog
Guest Posts
Bike Reviews
Bike Gear Reviews
Bike Tips
Travel Stories
Travel Tips
Repair And Restoration
Interesting Links
Support BAT
Welcome To Bikes And Travels...
...It's about bikes...and travels...mostly on bikes!
What's New?
Epilogue - South Wales 2017 Once again another trip comes to an end and it is time to return to the reality of everyday life. Neither Sharon or Ren are ready for it to be over.
---
Scooter Cannonball 2012 Would you choose to ride across America? On a scooter? Is there such a thing as a Scooter Cannonball? It is a strange world that we live in.
---
Moto Winch Anyone? This gadget can help get your motorcycle upright once again if you've been unlucky enough to drop it. There's pros...and cons.
---
The Trouble With Trouble So bigger motorcycles are safer as they have the power to get you out of trouble? Sharon ponders this received wisdom. Can you help her work it out?
---
Exploring The Brecon Beacons After yesterday's deluge will the soggy campers get chance to dry out and actually see The Brecon Beacons? Sharon is bleating out some awful sheep puns too.
---
Poorly FZS600 Fazer Despite Stephen's years of experience tinkering with troublesome 2 wheelers he's still capable of making life hard for himself. This time his angst is brought on by his latest winter hack.
---
Managing Expectations They say you should never meet your heroes. Ren has met a few real world travellers and this has both a negative and a positive effect on him.
---
125 On-Off Roaders? So what kind of on-off road 125cc motorcycles are currently on the market? Ren's pondering which future second hand bike to buy. It's not looking good.
---
New Friends And Llandovery While the weather is very much against them Sharon and Ren enjoy the day with new friends and a lot of hot tea. They're heading a little North in South Wales.
---
Road 5 Wet Grip And Reality Michelin are bringing out the new Road 5 and they're GREAT in the wet - allegedly. But will they be GREAT in a cold wet British winter deluge with diesel strewn corners?
---
Latest Posts
Moto Winch Anyone? Bob said :-
Listen out for a clacking sound from the right hand side of the engine between 5K and 6K RPM - that's the camchain. On the black KLX in the picture above the camchain was dead when I bought it, with only 10K miles on the clock. I changed the camchain and fitted the manual tensioner. On my green KLX it came to me with a slight camchain rattle at only 1600 miles, I'd caught it in time so a manual tensioner has fixed that one without needing a new chain.
It seems most people ride round on them oblivious to the the camchain flapping around!
I think the problem is because for some reason Kawasaki fitted a non-ratcheting secondary tensioner in the crankcase and I believe that the spring in the secondary tensioner takes up the slack in the camchain which would normally be taken up by the ratcheting main tensioner.
Since fitting and tensioning the manual tensioner I've not had to adjust it again in 2500 odd miles.

KTMs aren't unreliable particularly (anecdotal evidence suggests the odd electrical gremlin on the Indian built models), but they don't have the longevity built in. BMWs most powerful single, the XCountry made 54HP from 650CC, KTM push over 70HP from their 701CC single, it's in a very high state of tune and hence it simply won't last as long.
I think KTM recommend a new crankshaft every 40K miles in some of their bikes.
I suppose if you pretend you're buying a 2 Stroke and therefore expect searing performance and regular rebuilds then a KTM will fit the bill.
11/12/2017 15:22:50 UTC
---
Scooter Cannonball 2012 Ren - The Ed said :-
Yeah when we think scooter we think 50cc rev-n-rips that you got when you were 16. We've never really embraced the scooter here in the UK unlike say Italy and around the Med. Even BMW have a couple of large capacity Scoots but you'd be hard pushed to see one here in Blighty.
11/12/2017 14:25:39 UTC
---
Moto Winch Anyone? Ren - The Ed said :-
I'll keep an eye on Sharon's camchain tensioner Bob, I've seen a few reports that on the KLX at least they're a little weak.

Are KTMs unreliable? I don't hear too many gripes about the bigger 4 strokes, I know nothing about the smaller capacity bikes though.

Dammit Ian! Here's me thinking I'd invented something. The exhaust bit wouldn't work for lifting the bike as the bike really ought not to be running on it's side. I suppose you could blow it up with your mouth...

Ah well...back to the drawing board.

11/12/2017 14:22:42 UTC
---
Moto Winch Anyone? Bob said :-
Well I've seen it all now....
11/12/2017 13:52:42 UTC
---
Moto Winch Anyone? Ian Soady said :-
Ren: "I'm thinking of some sort of fold up bag that you place under the bike and inflate to gently lift the bike up for those first and worst degrees."

Here you are: (see link).

This uses the exhaust to blow it up. I'm sure someone of your skill and experience could knock something up out of an old space hopper and a footpump.....


www.amazon.co.uk/30178-Inflatable-Car-Jack/dp/B000NI4QZO/ref=pd_lpo_sbs_263_t_0? ...
11/12/2017 10:18:47 UTC
---
Scooter Cannonball 2012 Bob said :-
At first glance I'm tempted to think flipping heck, that's a long distance on an unsuitable machine but actually those modern large displacement scooters can fair clip on (as I found to my cost one evening trying to keep up with a Vespa GTS300i when I was on my FX650)!
11/12/2017 09:08:27 UTC
---
Moto Winch Anyone? Bob said :-
I was out yesterday and dropped the bike three times. There really is no substitute for lack of mass!
The idea of faffing around with ratchet straps and bits of pole in those conditions is laughable.
When it comes to my ideal bike there are three attributes which I want:
1) Power
2) Light Weight
3) Longevity / Reliability
Unfortunately I have come up against the reality that of that list you can have any two attributes, but not all three.
My KLX250 covers 2) & 3), maybe one day I'll get a KTM then I'll have 1) & 2) but I can't for moment buy something I'm expecting to fail sooner rather than later. I trust the KLX mechanically (or at least I do now I've replaced the inadequate automatic camchain tensioner with a manual one).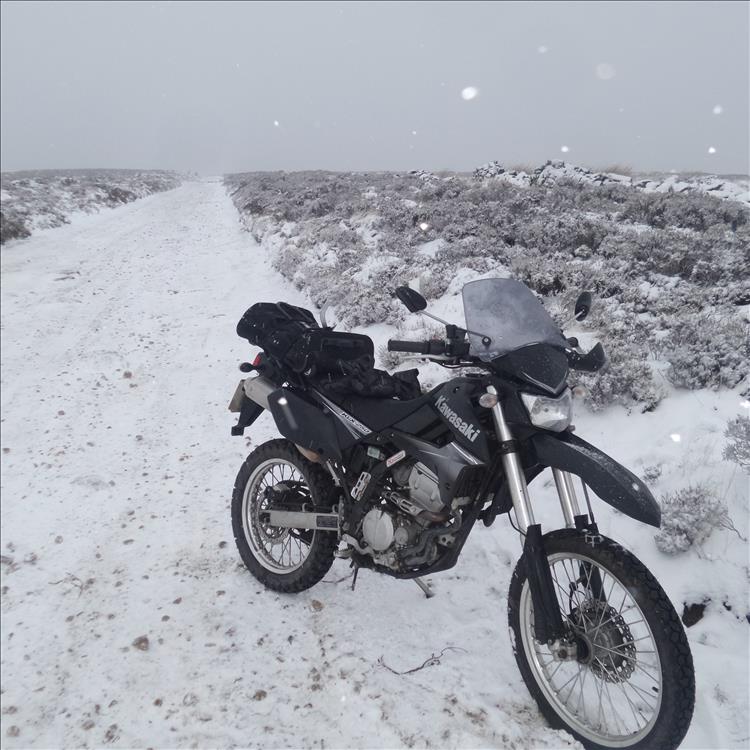 11/12/2017 09:05:03 UTC
---
Epilogue - South Wales 2017 Ren - The Ed said :-
Keith M - don't encourage her!!! I want her to further her career and become a big earner - so I can retire and do the things I want to do. I'm 46 and well past retirement age now.
10/12/2017 18:33:48 UTC
---
Moto Winch Anyone? Ren - The Ed said :-
I keep on coming back to the same idea but I can't think as to how it might work. I'm thinking of some sort of fold up bag that you place under the bike and inflate to gently lift the bike up for those first and worst degrees.

The problem is two-fold. 1 - the size of the bag. If the material is going to be strong enough to take the weight of the bike and actually lift the bike enough to complete the lift it's going to be a big bag and therefore cumbersome. Secondly is inflating it. I have considered them cannisters you get to inflate tyres after a puncture repair but it'd be a big cannister to inflate a big bag.

Back to the drawing board...
10/12/2017 18:32:13 UTC
---
Epilogue - South Wales 2017 Keith m said :-
Sharon I'm with you. Retire at 50 sounds fantastic. I've been at work since the mid 80's and I'm bored of it now. Don't hate my work it's just I've got better things to do with my life than go to work.
10/12/2017 11:27:41 UTC
---
See all older posts
Latest Chit-Chat
Go To Chit-Chat Ian Soady said :-
Snow, especially when it's fresh isn't too much of a problem until it gets packed under the mudguards and stops the wheels rotating. But black ice is definitely the time to leave the bike in the garage.

Again on the Commando in that same winter: a sudden frost after rain had washed the salt away left the road surface like glass. Came to a pelican crossing which turned red as I was approaching and the merest touch on the brakes had me & the Norton sliding along gracefully. I couldn't actually stand up and had to crawl into the gutter where a couple of kind souls helped me and the bike up so I could gingerly continue on my way home.

At the time (in fact for about 10 years) I had no alternative form of transport and if I hadn't made it to work I'd have been sacked.

The next week I bought a cheap Yamaha DT125 which was much better for the conditions.
11/12/2017 10:25:06 UTC
---
Ted said :-
My old mate Phil reckons that although this might be a bit heavy, and seriously under powered (He don't pedal that fast)

This could be his next winter bike.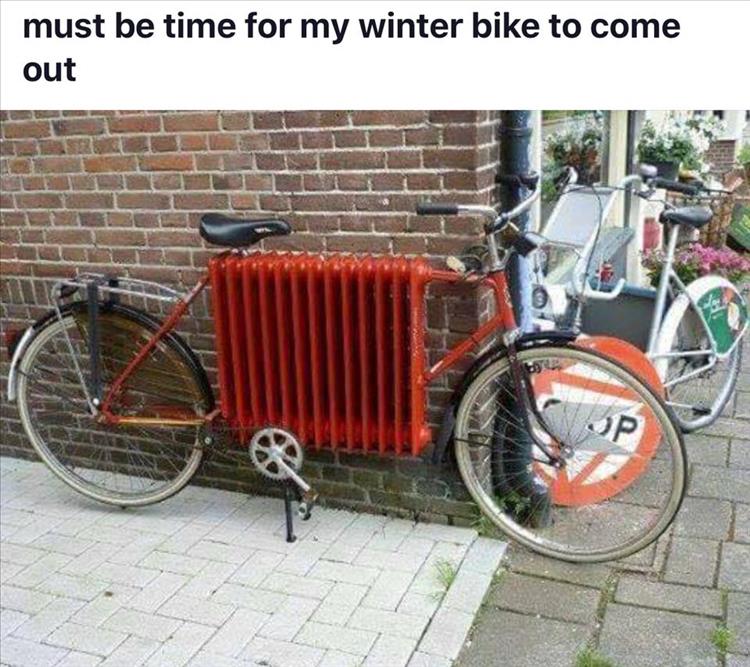 11/12/2017 07:59:20 UTC
---
Ren - The Ed said :-
If I can barely walk on the footpaths I figure I'll struggle on an icy road.
11/12/2017 07:17:37 UTC
---
Ian Soady said :-
That of course should be TT100s.......
07/12/2017 10:20:22 UTC
---
Ian Soady said :-
Always managed with TT1000s on the Commando even during the winter of 1980-81. I have to admit it was scary going downhill being tailgated by a 10 ton truck however.
07/12/2017 10:19:59 UTC
---
Ren - The Ed said :-
Snow this weekend apparently. Hopefully nothing too serious but it could rather mess with my plans. Despite years of motorcycling I still haven't worked out how to ride on snow while the bike is fitted with regular road tyres.
06/12/2017 12:18:03 UTC
---
Ren - The Ed said :-
Yeah that's great that Borsuk. 22 degrees huh, how awful, I bet you had to break out a jumper.

Meanwhile here in blighty the conditions have returned to dull, grey and slightly wet. Normal service has been resumed.
05/12/2017 13:14:55 UTC
---
Borsuk said :-
I was worried about ice here at work this morning as the temperature had dropped down to 22°c during the night, fortunately there was nothing to worry about.


I know. I am evil.
02/12/2017 20:20:39 UTC
---
Ren - The Ed said :-
Ice this morning. I think I'll do some website work while it thaws out a little.
01/12/2017 10:37:41 UTC
---
Ren - The Ed said :-
It seems these days that mammoth touring on a C90 is de rigueur. In typical human fashion we've swung from the sublime to the ridiculous, C90s are fetching top dollar these days too.

It's getting a bit parky out there these days. Frost and even ice on the roads are making for a treacherous ride to work in the mornings. Thankfully tomorrow I will be walking to a customer's place.


30/11/2017 17:39:13 UTC
---
---
_