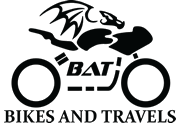 Home
Contribute
Contact BAT
Chit-Chat
BAT Facebook Page
BAT Stickers!
Ren's Biking Blog
Sharon's Biking Blog
Guest Posts
Bike Reviews
Bike Gear Reviews
Bike Tips
Travel Stories
Travel Tips
Repair And Restoration
Interesting Links
Support BAT
Calculators And Converters
Welcome To Bikes And Travels...
...It's about bikes...and travels...mostly on bikes!
What's New?
Sympathy For The Devil Is there any money to be made is selling motorcycles for a living? Ren has a brief look at the maths and maybe it doesn't all add up.
---
Stripping The Free Engine The King of unskilled motorcycle mechanics has been stripping and rebuilding a 125 engine. What could POSSIBLY go wrong?
---
Royal Enfield Himalayan Test Ride Review Ren manages to scab an hour on Royal Enfield's Himalayan. What will he makes of the Indian manufacturer's latest creation?
---
Pulling Halfway Out It's not exactly good practice but is this thing about pulling out halfway across a busy main road bad driving or a necessary evil? As usual Ren is sitting on the fence.
---
Fashion For Faded Being right at the bleeding edge of the latest trends and styles Ren is taking a look at what is in vogue today. Clueless is the word that comes to mind.
---
Ferry Luggage In the interest of making the simplest things as complex as he possibly can - Ren is planning on how best to board a ferry.
---
Latchy's Rusty Stand. Latchy hates rust and there's some rust on his winter hack's centre stand. So what can the innovative and ingenious mechanical artist do to solve the problem?
---
Engine For Nowt Ren has been begging once again and the good people of Facebook have come up with the goods. But why, what's he after this time the low-down cheapskate?
---
70,000 Mile Tappet Check With the 125 now reaching 70k Ren checks the tappets once again. How does everything look inside the top end?
---
Christmas Ride 2017 It's Christmas! So that means it's time for Ren to ride to those places he'd normally avoid. This time he takes on consumerism.
---
Latest Posts
Stripping The Free Engine Ian Soady said :-
As someone once said "those people who never have time to do it right first time always seem to have time to do it again". Or something like that.

And he's not having my Arrow to practice on - he'd probably forget about the ring pegs and break the rings.......
22/01/2018 15:27:34 UTC
---
Stripping The Free Engine CrazyFrog said :-
That's not a simple top end Ren - it's one of them there complicated four stoke thingies with valves and stuff! If you want simple, strip a proper bike engine like an MZ two stroke ;)
22/01/2018 13:37:46 UTC
---
Stripping The Free Engine Ren - The Ed said :-
Yes Ian - the big end. But not everyone reading this will be quite so well informed.

It is a roller bearing in a pressed up crank. When I first stripped the motor is was seized up but I have loosened it. Not with the intention of putting it back on the road because that bearing and the associated surfaces will be cream crackered. I loosened it in case someone wants to see how a crank works.

I would never rebuild a crank like this simply like yourself I just don't have the tools or the skills. I could purchase a crank quite cheaply (£57) but as I have no intention of using the motor in a bike - why bother!
22/01/2018 12:54:45 UTC
---
Sympathy For The Devil Ren - The Ed said :-
Cheers Ross. The main thing is just how little markup there was on the bikes with prices listed. Getting into selling Chinese motorcycles might be quite easy but it is certainly not a get rich quick scheme.

I reckon winter is a good time to buy as sales are slow. As for pre-reg bikes well they're kind of like putting off the inevitable? Lets say you pre-reg 10 bikes in '17 to get the stats up, then you've got to sell those 10 bikes before you can start on the '18 stats. I dunno, but who cares. Pre-reg bikes are usually a bit cheaper and just as new.
22/01/2018 12:49:10 UTC
---
Pulling Halfway Out Doug said :-
Guilty as charged, and happy to defend it - it's part of modern traffic, poor town planning and lack of infrastructure development. There's one particular junction on my commute that really should be a mini roundabout, as the northern part of the Northampton ring road doesn't exist, leaving traffic to go through a housing estate. There's a new housing development going up in the same area of about 1400 houses, yet the roads aren't being upgraded as part of that. If you're lucky, someone further up the road will use the pedestrian crossing and create a gap, but usually there isn't one.

Once you're halfway across it's rare you need to wait more than 10 seconds for someone to let you complete the turn, so it's not like you're delaying someone for any significant length of time, but the poor sods who are queued behind you have one less car in front of them.


22/01/2018 12:28:21 UTC
---
Pulling Halfway Out Ian Soady said :-
I must admit to doing this occasionally (in the car - I wouldn't try it on a bike) but ONLY when I can see there's a gap coming from the left so know I won't be holding up the traffic from the right for more than a few seconds.

Fortunately I rarely have to get tangled up in "rush" hour traffic these days......
22/01/2018 12:19:13 UTC
---
Stripping The Free Engine Ian Soady said :-
"The bearing between the bottom of the conrod and the crank is stiff."

It's called the big end old chap......

And you would never "loosen it up" as this is one of the most critical bearings in the engine.

I'm assuming a plain shell type bearing with detachable big end cap? If its's a built up roller type bearing as on my old Brit singles then replacing these is a job even I wouldn't tackle as it needs a 5 ton press and measuring equipment I just don't have.
22/01/2018 12:15:50 UTC
---
Sympathy For The Devil Ross said :-
That sounds a fair assessment, the only bit you've missed out is the sales target incentives and bonuses the importer will pay to the dealership 'if' they meet their targets...hence pre-registered bargains for us punters and bikes being offered at or even below cost price. The end of a sales quarter can be a good time to buy if the salesman is close to his target and needs one or two more deals to get him over the line!
22/01/2018 11:41:57 UTC
---
Long Term Honda CBF 125 Review Ren - The Ed said :-
I'd need a lot more details Jonny because diagnosing from afar is nigh-on impossible.

My first question - has the bike been serviced! If the tappets are tight this can affect startup when it's cold -
http://bikesandtravels.com/biker.aspx?ride=488
Also if the air filter is dirty this won't help. Give it a thorough service, I mean a full complete proper service. Replace the spark plug. Cheap and necessary. I doubt it's that but start with the cheap stuff. Also consider the spark plug cap - I've had issues in the past with mine.
http://bikesandtravels.com/biker.aspx?ride=747

At 14.5v and 12.3 to 12.09 volts at the battery it *sounds* like the charging system is OK. However motorcycles can be tricky so do not totally dismiss this.

If the starter is cranking the motor over swiftly I doubt it'll be that.

Start out with the full complete service then if that don't help work through the cheapest and most obvious things.

Hope that helps.






22/01/2018 10:52:20 UTC
---
Long Term Honda CBF 125 Review Jonny said :-
Hi Ren- My CBF125 (2012 with 21k Miles on the clock) is working well, however for the past few months it doesn't always start first time. I thought the battery was reaching the end of its life so replaced it. But still if I leave the bike over a weekend, in cold weather, it doesn't want to start first time. And if I leave it for a week or more, it won't start without a boost.

This is with a brand new battery, and I have removed anything superfluous to the original spec that might have been taking power (Like an alarm). Also, I have been monitoring the voltage across the new battery and that is always 12.3V - 12.9V. Even this morning it was reading 12.5V, and yet the bike didn't start on first try. (it did on the third try).

When the engine is running, there is a steady 14.5V which tells me that the altenator is working correctly.

Do you have any advice?
could it be that the starter motor needs replacing?

Thanks as always.
Jonny
22/01/2018 10:32:02 UTC
---
See all older posts
Latest Chit-Chat
Go To Chit-Chat Ren - The Ed said :-
Copenhagen? No snow? No ice? In my mind anything north of Scotland must be entirely icebound until at least April. I need to get out more don't I.

Meanwhile here in North West England we had enough snow to make this snowperson (politically correct here doncha know).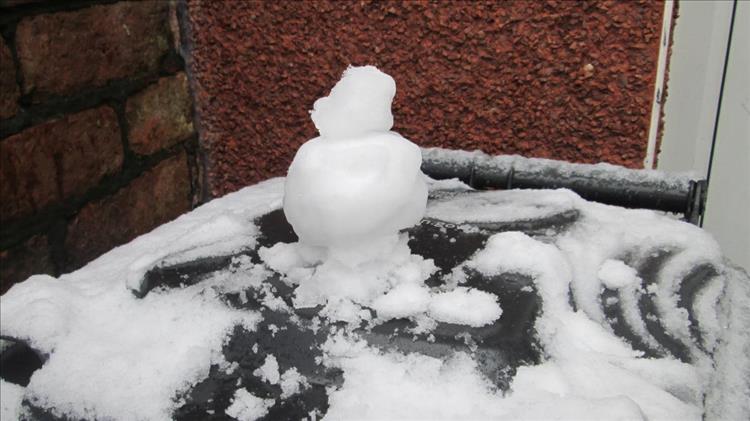 22/01/2018 08:47:43 UTC
---
Henrik said :-
Nice evening-ride in Copenhagen, around zero, nice winter :-)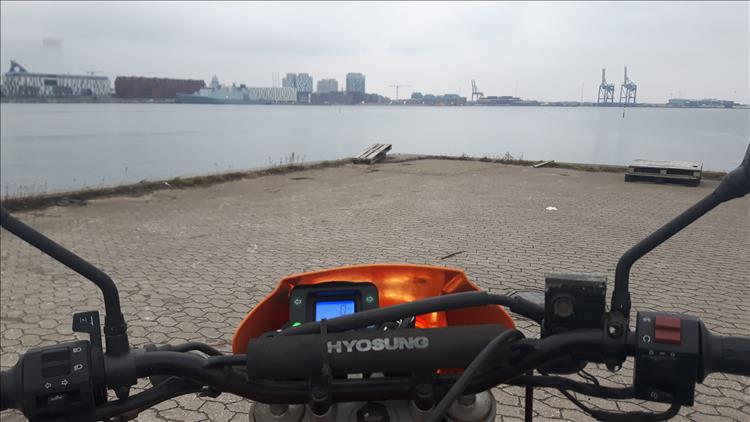 20/01/2018 15:14:23 UTC
---
Rod said :-
Points very well made Ian. That is what I was trying to say, but I do not have a good command of written English!!
19/01/2018 18:54:11 UTC
---
Ian Soady said :-
That's your not hour of course.

Speaking of dabs - Gordon Jackson's historic single dab in the 1960 Scottish Six Days Trial - I know you like the historic pics......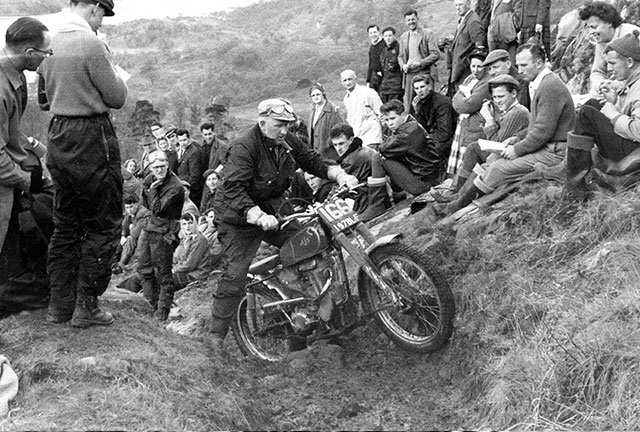 19/01/2018 15:07:41 UTC
---
Ian Soady said :-
"even with my vast experience I cannot work out why a bike would be any more stable with the rider's feet on the pegs. You'll have to explain."

With hour feet off the pegs, your body is not firmly in contact with the bike other than through the seat and bars. So if the bike slides sideways and tilts, the only way you can maintain your position is by using the bars to hold yourself up thus applying steering effort in an uncontrolled way. In other words, the centre of gravity of the whole thing (bike plus rider) is moving in an uncontrolled way.

With your feet on the rests, you can lock your body into position with your knees on the tank meaning that the bars are not necessary to support you and you can control them much more precisely. Standing on the footrests (again with knees locked to the tank) gives even more control as your body weight (well mass really) has more influence on the overall centre of gravity.

There's a reason why trials riders stand on the footrests. I always found when riding in trials that once I'd dabbed it was extremely difficult to actually get both feet up again and would end up paddling to the end of the section.

All this of course is principally relevant on slippery surfaces although I do believe that locking your knees to the tank and ensuring that as little pressure as possible is applied to the bars especially when braking.

19/01/2018 10:50:00 UTC
---
Rod said :-
I agree with Ian. You have more control when things go wrong with your feet on the pegs. The bike is not unstable with your feet down, but you are not in the best riding position to retain maximum control as you tend to control the bike with your hands using the handle bars, and not with your whole body in balance with the bike.
Studded/ Spiked tyres give good grip on packed snow and ice, but I doubt that they would give good grip on the wet stuff we tend to get in this country. I have not had any experience riding on studded tyres so I may be completely wrong.
18/01/2018 19:30:41 UTC
---
Ren - The Ed said :-
I've given this a lot of thought. And done a few slow manoeuvres in the car park. No - even with my vast experience I cannot work out why a bike would be any more stable with the rider's feet on the pegs. You'll have to explain.
18/01/2018 15:22:13 UTC
---
Ian Soady said :-
Stick your feet out? I'm sure with your vast experience you know the bike's much more stable with your feet firmly on the rests (except when you've stopped of course.....)

No idea about studded tyres but don't we have Scandinavian correspondents here?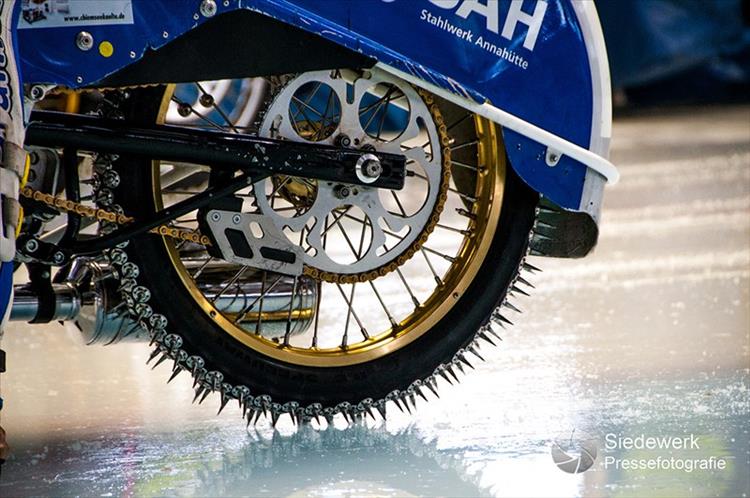 17/01/2018 10:37:50 UTC
---
Ren - The Ed said :-
Bit of snow on the way home last night. Just the last few miles but it was enough to reduce my speed to 20mph and stick me feet out.

I'm curious - I've heard studded tyres are not legal here in the UK but has anyone reading had any experience with them? Do studded tyres allow you to ride in the snow as well as you could ride on say regular wet tarmac or do the just help a little.
17/01/2018 10:29:04 UTC
---
Ren - The Ed said :-
Gosh darn it!! Yeah it's important to keep on top of these things. Doh!


10/01/2018 22:07:24 UTC
---
---
_