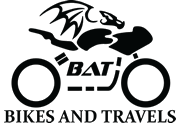 Home
Contribute
Contact BAT
Chit-Chat
BAT Facebook Page
BAT Stickers!
Ren's Biking Blog
Sharon's Biking Blog
Guest Posts
Bike Reviews
Bike Gear Reviews
Bike Tips
Travel Stories
Travel Tips
Repair And Restoration
Interesting Links
Support BAT
Calculators And Converters
Welcome To Bikes And Travels...
...It's about bikes...and travels...mostly on bikes!
Sharon might be packing a pistol to shoot Ren with...
What's New?
Thoughts On Bunkhouses Traumatised as a child Ren's never fancied the thought of a bunkhouse - until someone points out they might not be all that bad. Do they make sense?
---
Motorcycle, MOT And Horn Ren's having a minor nightmare with perhaps the simplest and most overlooked item that's checked on the MOT. A horn. A simple horn.
---
Tin Tin It's both a good and bad day for Sharon as she travels from the delights of the mountains to the grim reality of the city and the rain. At least her hair is looking good.
---
CBF125 Rear Brake Shoes Ren's long winded summary of fitting new shoes on the 125. It's easy, there, save yourself the effort.
---
Lost In Luxury How to turn a fortuitous and splendid day into a nightmare. Just follow Ren and he'll sort the rest out. Still, it could be worse.
---
The Sound Of Silence In spite of a dire weather forecast Sharon's day in Spain is filled with the beauty of nature, fond memories and the creation of great new memories.
---
Boots And Burgos Ren is suffering a footwear malfunction and it's time to go and do that city thing. Can Burgos convert Sharon and Ren into city lovers?
---
Honda CB1100RS Review Tom's got a new toy! Thing is after owning a hugely powerful bike can a weedy wheezy air-cooled 1100 keep him happy? It must a tough downgrading to 1100ccs...
---
Higher Than I've Ever Been In spite of the weather forecasts. In spite of no longer being in The Picos. In spite of Ren being a pessimist. In spite of all this it seems Northern Spain has more delights in store.
---
Heaven's Mirror Putting fear and doubt to bed for a while Sharon enjoys the wondrous ecstasy of nature and the joy of riding a motorcycle through it. Oh and a lot of sharp corners too.
---
Latest Posts
Thoughts On Bunkhouses Ren - The Ed said :-
I understand that, I'm trying to open myself up to other options. I still feel the tent is the best option most of the time but it'll be handy to have additional choices. I'll never know until I try!
21/07/2018 06:55:30 UTC
---
FZS 600 Throttle Position Sensor - SOLVED! Ren - The Ed said :-
Cheers Cc. I'm certainly not aware of any bikes where the TPS is used to set the tickover.
21/07/2018 06:49:55 UTC
---
Tin Tin Ren - The Ed said :-
She can't be that innocent Ian, she feels guilty about everything.
21/07/2018 06:39:17 UTC
---
Thoughts On Bunkhouses Rod said :-
Ren, I see the attraction of not taking all the camping gear. I have had a quick look at air b&b in the past,but I always come back to the independence that camping provides.
20/07/2018 21:13:26 UTC
---
FZS 600 Throttle Position Sensor - SOLVED! Cc said :-
That should have ssaid readings the TPS sends..
20/07/2018 15:22:16 UTC
---
FZS 600 Throttle Position Sensor - SOLVED! Cc said :-
I work on a technical level with motorcycles and Ren is correct in saying the TPS sensor is NOT there to adjust tick over. Doing this will likely cause issues with the reasons the TPS is actually meant to send.

Carbed bikes will have a tick over screw or thumb adjuster, injected bikes will have their tickover set by the ECU and may or may not be re-mappable by user/dealer dependent on make/model.

Hope this is a somewhat useful addition!
20/07/2018 15:20:55 UTC
---
Tin Tin Ian Soady said :-
I think the word is "innocent"......
20/07/2018 13:58:30 UTC
---
Tin Tin Ren - The Ed said :-
She's so naive Ross.
18/07/2018 19:29:41 UTC
---
Honda CBF250 / Suzuki Inazuma Dilemma Ren - The Ed said :-
Cheers Joe, we try our best.
18/07/2018 19:28:49 UTC
---
Tin Tin Sharon said :-
Ian,
Haa yes it is true that I should be grateful I have hair enough to stick up on end.
Ross,
I had to stare at the pic for ages trying to figure at what was rude about it. I did eventually twig but in my defence the length if took me to see it shows my complete innocence.
:-D
18/07/2018 18:13:57 UTC
---
Latest Chit-Chat
Go To Chit-Chat Ren - The Ed said :-
Not at my tip they don't. Keep ya trap shut Bill otherwise they'll hear and start charging.
21/07/2018 17:07:11 UTC
---
Bill said :-
Get your wallet ready Ren they charge to take tyres at council tips :-(
21/07/2018 15:50:26 UTC
---
Ren - The Ed said :-
Flip flops! Gosh darn it!! I could have made 20 pairs of flip flops and sold them on Ebay for £30 a pair. Right I'm off back to the tip, see if I can get them back.
21/07/2018 14:04:12 UTC
---
Borsuk said :-
The one second from the bottom has plenty of mileage in it.
Your not as tight as you make out you know. In some countries that pile would be at least 20 pairs of flip flops. ;-)
20/07/2018 15:14:43 UTC
---
Ren - The Ed said :-
I guess a trip to the tip might be in order...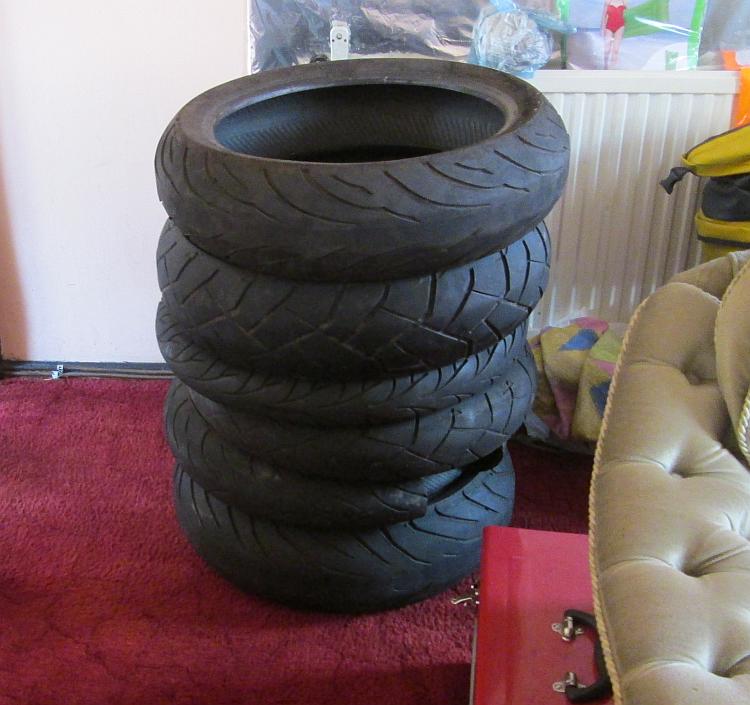 20/07/2018 09:27:20 UTC
---
Ross said :-
It's looking like a bad year for the real road racers...James Cowton has lost his life and Ivan Linton sounds as if he's in a bad way! Not forgetting Dan Kneen who died earlier in the year! RIP guys, and thanks for the entertainment they've given prior to their demise...
18/07/2018 10:56:59 UTC
---
Keith m said :-
I'm with you on your sentiment Rod and Ren. In this sanitised world we live In I find real road racing very enjoyable to watch but the cost if anything goes wrong is very high.
10/07/2018 21:40:59 UTC
---
Henrik said :-
Don't watch "Tour de EPO", or football, never did, don't even know the rules

Its absolutely and ultimale boring in my eyes
09/07/2018 08:01:31 UTC
---
Ren - The Ed said :-
I don't follow motorcycle racing much but I hear the names and their legends by osmosis. It will be a hard time for the family.
09/07/2018 05:29:10 UTC
---
Rod said :-
William Dunlop R I P
08/07/2018 21:18:02 UTC
---
---
_