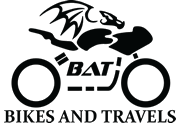 Home
Contribute
Contact BAT
Chit-Chat
BAT Facebook Page
BAT Stickers!
Ren's Biking Blog
Sharon's Biking Blog
Guest Posts
Bike Reviews
Bike Gear Reviews
Bike Tips
Travel Stories
Travel Tips
Repair And Restoration
Interesting Links
Support BAT
Calculators And Converters
Welcome To Bikes And Travels...
...It's about bikes...and travels...mostly on bikes!
What's New?
Fashion For Faded Being right at the bleeding edge of the latest trends and styles Ren is taking a look at what is in vogue today. Clueless is the word that comes to mind.
---
Ferry Luggage In the interest of making the simplest things as complex as he possibly can - Ren is planning on how best to board a ferry.
---
Latchy's Rusty Stand. Latchy hates rust and there's some rust on his winter hack's centre stand. So what can the innovative and ingenious mechanical artist do to solve the problem?
---
Engine For Nowt Ren has been begging once again and the good people of Facebook have come up with the goods. But why, what's he after this time the low-down cheapskate?
---
70,000 Mile Tappet Check With the 125 now reaching 70k Ren checks the tappets once again. How does everything look inside the top end?
---
Christmas Ride 2017 It's Christmas! So that means it's time for Ren to ride to those places he'd normally avoid. This time he takes on consumerism.
---
A Look At The Himalayan What on earth has Royal Enfield brought us? It's an adventure bike, it's (relatively) cheap and on paper it looks good(ish). Ren is preying it proves to be good in reality too.
---
Calculating MPG Ren explains how to calculate MPG. You might be needing a calculator unless you're a mental maths genius.
---
70,000 Mile CBF 125 The CBF 125 has endured another 10,000 miles under Ren's uncaring backside. Is it a miracle of modern engineering or just good luck and stubbornness?
---
Bored Of Adventure Despite the hype does being a world travelling motorcycle adventurer ever become dull? Maybe it's not all it's cracked up to be.
---
Latest Posts
Fashion For Faded Ren - The Ed said :-
HA! Yeah Daf smart city folks paying big bucks to buy faded and ripped jeans. Us poor folks had plenty of them, we used them as rags. We need images of the shed built retro scrambler to decide if you really are truly hipster.

Borsuk - I'm surprised you even know what the word fashion means! I can see you on your deck tripping over your 22 inch bell bottomed flares...in 2001.
17/01/2018 10:26:23 UTC
---
Fashion For Faded Borsuk said :-
Due to my keeping hold of gear until it begs to be put down I find that every so often I suddenly become fashionable again. As this is a situation I have no desire to be in I usually administer the coup de grace to my existing gear then go out and buy whatever has gone just out of fashion at reduced prices as no-one wants them.

I was politely asked by my crew in the 80's to not wear 20 inch flared jeans on deck in port as it made the ship look uncool. Straight legs, which I had been wearing for years, had come back into fashion. I had just picked up 5 pairs of flares for about £8 so the answer was go raffle yourself. In those days compulsory PPE in port was not yet a hard and fast rule and I was damned if I was paying £30 quid for a pair of jeans to cover them in wire grease, paint and all other types of crap.


16/01/2018 20:19:53 UTC
---
Fashion For Faded Daf said :-
Oh dear. Like the trend for buying distressed jeans as £200 a pair. I'm sure I don't need pre 'aged' gear or bikes - I'm good at doing that without any help! I bought a brand new RST leather jacket from J&S Openshaw 4 years ago and now it's hardly black. I've worn most of the finish off the arms!

Funnily enough I've just bought a sort of retro scrambler, built in a shed, and 17 years old. That hipster enough for 'ya?
16/01/2018 19:08:09 UTC
---
A Look At The Himalayan Ren - The Ed said :-
I'm just booking me ticket now...
16/01/2018 16:55:46 UTC
---
A Look At The Himalayan Ian Soady said :-
So what are you waiting for?

Bidding is at just over £1,000 - fly out to Naples and ride it home........
16/01/2018 15:54:05 UTC
---
A Look At The Himalayan Ren - The Ed said :-
Oh My LORD! It's even got a trailer!!!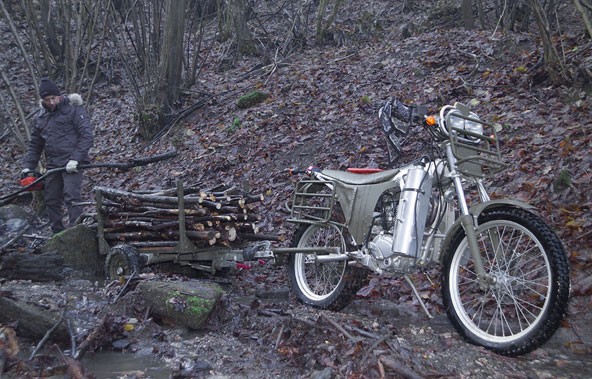 16/01/2018 15:32:35 UTC
---
A Look At The Himalayan Ian Soady said :-
Ooh, and look! You can get pannier frames for it - and they seem to be designed specifically for boxes of wine!

Also use it for lugging tree trunks out of the forest etc.....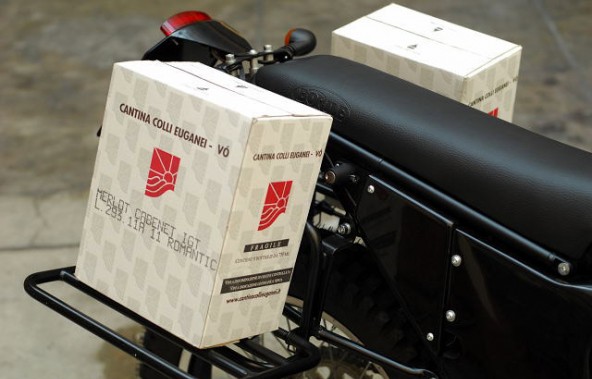 www.motomag.com/Nouveaute-2014-la-Multiuso-de-Borile-debarque-en-France.html ...
16/01/2018 15:16:09 UTC
---
A Look At The Himalayan Ren - The Ed said :-
Cool bike! It looks rather like a Chinese CG125 engine despite being 230cc. I would be concerned regarding the tank range but that front folding luggage rack is giving me (more stupid) ideas.
16/01/2018 14:55:43 UTC
---
A Look At The Himalayan Ian Soady said :-
It does seem to go quite well......
youtu.be/MvIQc3hQGp4 ...
16/01/2018 12:24:15 UTC
---
A Look At The Himalayan Ian Soady said :-
Want a nice light bike? How about this? 85 Kg...........

Maybe not suitable for the RTW trip (although a set of throwovers and you're set) but it looks like a hoot.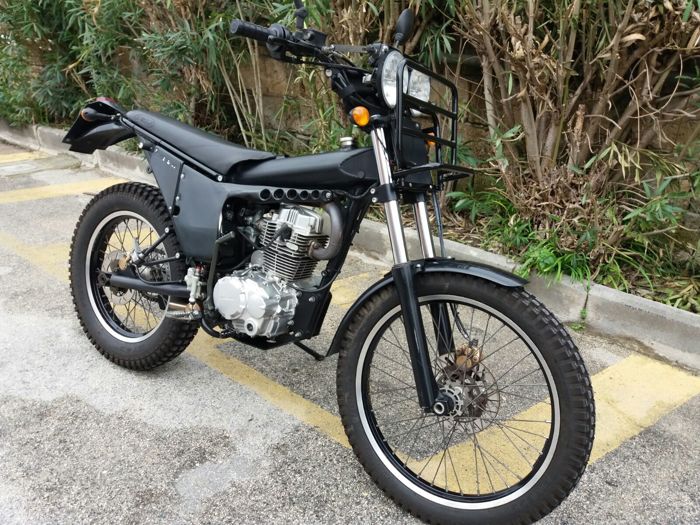 auction.catawiki.com/kavels/16094791 ...
16/01/2018 12:16:52 UTC
---
See all older posts
Latest Chit-Chat
Go To Chit-Chat Ren - The Ed said :-
Gosh darn it!! Yeah it's important to keep on top of these things. Doh!


10/01/2018 22:07:24 UTC
---
Borsuk said :-
Just managed to check DVLA site. It's for Trikes only. Thought it was too good to be true. They must have changed the groups back in 2013. Gnash Gnash.
10/01/2018 19:41:18 UTC
---
Borsuk said :-
On my way home from work I had my pocket picked and wallet stolen. In addition to cancelling all my cards I had to get a replacement driving license. On checking it after it arrived, the day I was going back to work, I was surprised to find that I had apparently sat and passed my A motorbike license in 2013. I am so tempted not to tell them they have given me an additional class, so so so tempted.The only good thing to happen to me from an official mistake.
10/01/2018 18:54:28 UTC
---
Ren - The Ed said :-
It was nice to be back on the roads today in the usual traffic now the chillblains have returned to school. There's nothing like long long lines of cars and trucks and vans filled with bored frustrated drivers. Everyone looks so miserable particularly under the grey British skies in the grey British towns.

Just think I can look forward to a lifetime of this!
09/01/2018 10:42:52 UTC
---
Ren - The Ed said :-
Normal political and philosophical service is being resumed. He is feeling better.
07/01/2018 09:36:56 UTC
---
Ian Soady said :-
Austerity?

Well that would have nothing to do with the £70+ billion of tax giveaways to the rich & corporations since 2010 (House of Commons official figures) would it? That's £1,000 for every person in the UK. If they hadn't done that we could have properly funded the NHS and social care and invested in infrastructure. But no, demonise the disabled, force people onto zero hours contracts with no security, pour money into the pockets of rip-off landlords via housing benefit etc etc. All applauded loudly by the scum daily mail and others. And accuse people like me who are doing nothing wrong of tax-dodging.

And Stuart? It's not mitigation, it's just intelligent shopping - no different from choosing to shop at LIDL rather than Waitrose. While we're still in the EU we're free to buy goods wherever we like within the EU and pay whatever local taxes apply as long as the goods are for our personal consumption. The UK's "loss" is France's gain!

Starting to recover now.......
06/01/2018 10:39:22 UTC
---
Ren - The Ed said :-
Whatever it is the UK treasury is missing income from Ian's wine habit! It's no wonder the country is is in austerity.
06/01/2018 00:05:36 UTC
---
Stuart said :-
It could be tax mitigation which is a legal way of not paying tax where as tax avoidance is an illegal way of not paying tax.

Stuart.
05/01/2018 22:21:24 UTC
---
Ian Soady said :-
Not even evasion. The EU has something called a Customs Union and another called the Single Market. These mean that any EU citizen is allowed to purchase (for their own use) goods in any member country, paying the local taxes in that country. Nothing wrong or suspect in that.

What you refer to is artificially pretending that profits made in say the UK are actually made elsewhere. And of course the IoM and Jersey aren't in the EU.

Leave me alone and let me lie down!
05/01/2018 15:21:19 UTC
---
Ren - The Ed said :-
Ah - I believe I may have got my words wrong - it's tax evasion rather than tax dodging is it not. While not illegal you have intentionally circumvented UK taxes on the wine by purchasing wine from outside the UK. Much the same as many corporations do by having offices in Luxembourg, The Isle Of Man and Jersey.
05/01/2018 14:12:07 UTC
---
---
_