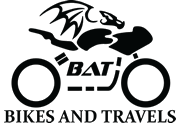 Home
Contribute
Contact BAT
Chit-Chat
BAT Facebook Page
BAT Stickers!
Ren's Biking Blog
Sharon's Biking Blog
Guest Posts
Bike Reviews
Bike Gear Reviews
Bike Tips
Travel Stories
Travel Tips
Repair And Restoration
Interesting Links
Support BAT
Calculators And Converters
Welcome To Bikes And Travels...
...It's about bikes...and travels...mostly on bikes!
Sharon might be packing a pistol to shoot Ren with...
What's New?
Riding To Devon It's a long and arduous trip down south to Devon. Or - perhaps Ren is being a drama queen and a bitter cynic.
---
Exploring South Devon Join Sharon and Ren as they explore a corner of South Devon.
---
CB500X Screen Improvements In the never ending search for motorcycle Nirvana has Ren uncovered The Holy Grail? You'd think so the way he's blabbing on.
---
Biker Code Nonsense Is there something special about bikers or motorcyclists? Are we indebted to each other? Ren doesn't think so.
---
Find An Excuse To Explore Does travelling require an excuse? No, not really but it helps Ren's unfocused mind to have one.
---
Adventure Overland Show Sep 18 Ren blags his way into The Adventure Overland Show. But there's a catch, there's always a catch.
---
Benelli TnT125 Owner's Review Nigel brings to life Benelli's small, stylish and rather curious TnT125. Teenagers may love it but what about a septuagenarian?
---
Riding To Find Something Lost Sharon is in reflective mood pondering just how much motorcycling has changed her life.
---
In Honour Of Stop n Tail Bulb Ren is mourning the loss of a long standing and reliable friend. It's a bulb. A tailight bulb. For goodness sake.
---
Blink Of An Eye Sharon has an interesting day poking around north west Spain. There's a something of a shock in store for the evening.
---
Latest Posts
Benelli TnT125 Owner's Review Peter 64 said :-
Great review, I actually found it very interesting and useful so I'm still looking for the test ride before putting money down but I'm not expecting a race bike. But thanks for taking the time to put it down in words.
15/10/2018 12:46:03 UTC
---
Bikers Can Be Jerks Ian Soady said :-
Yes.

I used to get really wound up about the 0.1% (and my wife still does) but some years ago I came to the conclusion that they obviously have very sad inadequate lives and they're the ones that have to live with their unresolved fury. So I just give a gentle shake of the head....

I've been the victim of actual road rage 3 times - twice on the bike, once in the car. Fortunately in each case I was able to find an escape route before physical contact took place. All were initiated by my giving what I thought was a polite toot to point out some egregious behaviour. So I try to keep clear of the horn button except to warn others of my presence, not to reprimand anyone.
15/10/2018 11:36:31 UTC
---
Bikers Can Be Jerks Ren - The Ed said :-
It must be a northern thing...I'm perfect too Upt'North.

Yeah we all suck a little Mutley, that's for sure. Of course being perfect my mistakes are deliberate merely to help other folk feel better about themselves. I agree with the whole defensive riding/driving and assuming that everyone else makes mistakes too so we should be aware of what could happen.

I do think there are bad drivers and riders though. I believe 99.9% of motorists are "up to scratch" but as you say they make honest mistakes. There are however those one in a thousand who are aggressive, selfish and really don't give a flying toss about other road users or the laws. Thing is these are the motorists that stand out and make the rest of us feel like "they're all out to get me!"
15/10/2018 10:13:53 UTC
---
Bikers Can Be Jerks Upt'North said :-
Mutley.
I think if you treat every other road user as a pillock you don't go far wrong.
But yes we all make mistakes, not me obviously! But the problem with two wheels is that mistakes hurt. A lot!
Keep em' peeled and non illigitum carbarundum. Or something like that?
Upt'North.


14/10/2018 17:12:31 UTC
---
Bikers Can Be Jerks Mutley said :-
I believe there is no such thing as a good or bad driver. Only differences is whether someone prepares and acts in a way to both deal with one's own mistakes and others mistakes. On a right hand band it's moving left to avoid the possible oncoming traffic that's drifted over the white lines either overtaking or texting whilst driving. It's slowing early on junctions forcing the motorist behind me to give themselves proper stopping distance to not rear end me. It's assuming that the person who eye contacted me will pull out just when I reach the junction they are pulling out of.

Maybe we all want to believe that we are somehow better motorists but I would argue that it's better to believe we all suck a little and just attempt to reduce the margin of risk of an accident by realising this
14/10/2018 08:48:04 UTC
---
Riding To Devon pocketpete said :-
I did suggest to the highway agency last year that they could have save 143million on the northern smart motorway rollout. They chose to ignore my very sensible suggestion.

My suggestion was simply leave the motorway alone save the millions and just turn on the existing 40mph max speed signs. This would be just as effective as the traffic doesnt even get above that speed on the best of days and would have saved all that lovely money. Brixham sound nice though but no tent Im quite shocked.
13/10/2018 12:54:08 UTC
---
Review of the Honda NTV 600 Revere - By Ren Withnell Ren - The Ed said :-
Cheers Frosty! Never thought I'd see a sort of off road bobber scrambler NTV600 Revere. It rather appeals to my fix it up n make it work mentality.

I hope the weather is better there than it has been here today. Cheers.
13/10/2018 10:40:07 UTC
---
Review of the Honda NTV 600 Revere - By Ren Withnell Frosty said :-
One truly Great Site, No Issues, No Denials, No Hang-ups, No Attitude..... just a meeting of Like Minds...Felitas, El Compadre Mucho.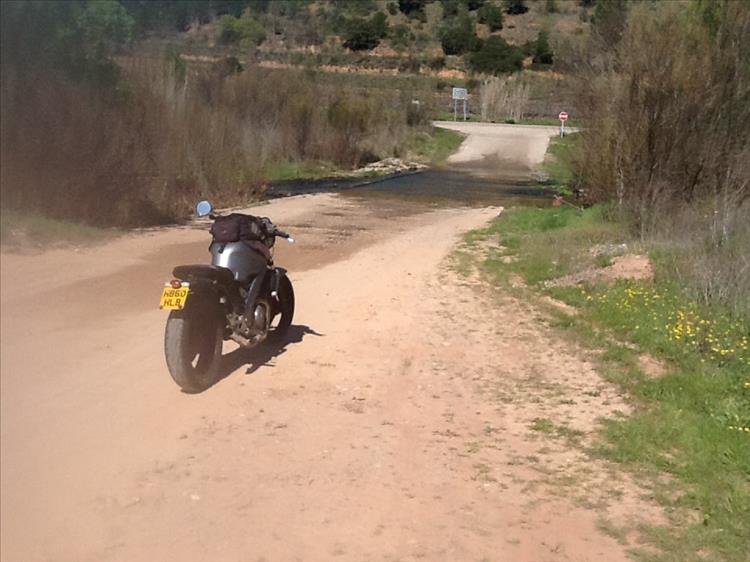 12/10/2018 11:50:36 UTC
---
Review of the Honda NTV 600 Revere - By Ren Withnell Frosty said :-
All the good stuff said here is so straight & true, bought my '89 600K in four c/board boxes off eBay for a 100 quid. Didnt expect much & wasnt disappointed, because I didn't get much.....Most of the standard plastic impedimenta plus Rs-end of the exhaust, H/light, all electrics, seat etc were missing, the rear-frame had been hack-sawed off just past the rear tank mounting, the r/shock was siezed solid scrap. Not a good start!...Looked at it for a week, my intention was to plant it at my 1920's Apartmento Rurale in Catalunya,Spain as my mountain hack ??.......I'm not going to spend any money on this heap of shite!, 60K on the meter, plastered in B&Q's gutter-grey slime oil paint....What to do ?....The project got hold of me..Spend no real money, throw it together on the cheap as a Rat-Bobber, spank what's left of the lil Bastard around the 1000 ft drops & sheer rock faces of El Montana Altos see who craps out first.....It wasn't the bike!.....old-fashioned, dated, retro, noisy with a modded 'slash-can', & so bloody ugly...But Chummy, a heart of Gold, a member of my Family, a Legend around Priorata del Tarragona,......Amen so absolute for one Magic Machine with Soul.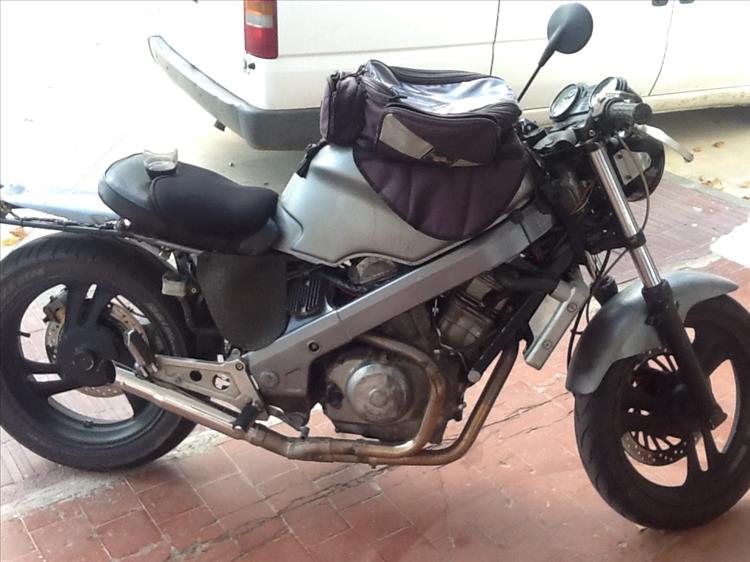 12/10/2018 11:35:41 UTC
---
Biker Code Nonsense Ren - The Ed said :-
I don't think being able to help mechanically is necessary. You may not have a mechanical bone in your body but it may be that you're mobile is working and theirs isn't. Maybe some local knowledge - "...there's a garage, what, half a mile that way, they might sell tyreweld".

I certainly don't stop at every biker I see. It may not be safe to stop, I may be on a time schedule, I may just be in a bad mood!

Oft times I have stopped it has transpired the rider is just having a smoke break, making a call, stretching their legs or looking at a map. It's really hard to know if a rider wants or needs help or is just having a chillout moment.
12/10/2018 07:09:03 UTC
---
Latest Chit-Chat
Go To Chit-Chat Ren - The Ed said :-
Don't take much girth to slow a CBF125 down into a headwind. I've had several occasions where the wind has brought me down to 45mph...and less.

Sounds like a jolly day out Jim
07/10/2018 19:03:28 UTC
---
Jim said :-
Thanks for the advice folks. I've used very high temp matt black on the exhaust, and stainless steel flange nuts. Stuck with Copaslip for the studs for now - I'll keep an eye on it and maybe replace with paint if that doesn't keep things neat.

Feeling rather pleased this morning I set off for a run in the rain for the first time - ended up crossing over the old Forth Road Bridge in some brisk winds and wound up at the Bikers Cove Cafe right under the South end of the rail bridge at South Queensferry. Felt a bit odd parking my CBF125 amongst the various Harley's and custom trikes, but had a nice cup of tea and headed back over the bridge. 75 miles in mostly light rain and 25 mph winds safely negotiated. Found that when riding into the wind 5th gear was a waste of time, my considerable bulk and girth combining to act as an anchor / sail resulting in a max speed of 45mph! Still, it really wasn't much of a day for going fast - steady as she goes got me home without incident, pretty much the main thing for me at the moment.
07/10/2018 15:37:01 UTC
---
Ren - The Ed said :-
Oh and size = M8 standard thread.
07/10/2018 08:28:54 UTC
---
Ren - The Ed said :-
Yes good call on the stainless nuts. Cheap as chips if you have a local industrial fixings place (there's a cracker in Chorley near me). Then I'd go for stainless nuts and paint...
07/10/2018 08:27:25 UTC
---
Ian Soady said :-
Rather than painting, I'd use copaslip on the studs and replace the nuts with stainless (they'll be a standard metric size so should be available from your local screwfix etc).
06/10/2018 09:19:32 UTC
---
Ren - The Ed said :-
A little brute force goes a long way Jim. I'll add a link to my exhaust change blog...

While the standard exhaust is as you've found a lot quieter and the bike is running better...it is mild steel. Mine rusted around he collar that holds the pipe into the head. Can I suggest buying a tin of heat proof paint and painting the studs, nuts and collar? It won't stay on too long and it won't STOP the rust but regular application will certainly slow the process greatly. My pipe lasted about 8 years and 70-odd thousand miles so it's not going to fall apart quickly on you.

Enjoy you're peace. Mine still sounds like a little sewing machine. It's so pleasant just sauntering gently down a quiet country lane with a genteel thrum and soaking in the views rather than being deafened.
bikesandtravels.com/biker.aspx?ride=1185 ...
05/10/2018 08:56:07 UTC
---
Jim said :-
Ended up taking courage in both hands and giving the stainless steel pipe a few sharp smacks with a rubber mallet. A few twists later and hey presto - we're off to the races. What a difference the standard system makes - the bike idles properly, has a little more grunt at low revs and I'm no longer heading for an ASBO.
05/10/2018 05:13:40 UTC
---
Jim said :-
Thanks for the advice folks - I'll fit the standard exhaust. However, that's proved easier said than done, in that the offending article refuses to part company with the bike. The two nuts came off the studs easily, but I cannot get the pipe out of the barrel. Picture below. It looks like it ought to just fall out. Any idea as? Thanks.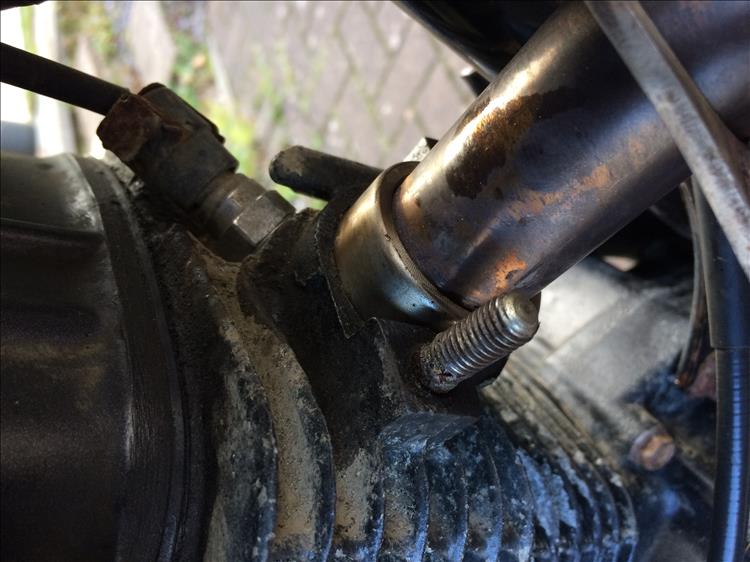 04/10/2018 16:10:36 UTC
---
David said :-
I cannot count the amount of times I've been cut off violently...
04/10/2018 11:29:40 UTC
---
Ren - The Ed said :-
Fit the standard pipe!

Unless you're 17 and trying to impress your male friends (I doubt young ladies are actually impressed) then a loud pipe is just a pain in the derrière. Having to go around the corner to start the bike is annoying. Like Ian said it will have messed up Honda's careful settings. As Ian said anything more than a trip to the local shop is draining.

When I were a lad I fitted "shotgun" silencers to my CB250T. I was 10 men, I was the dude, I was the man. For a couple of hours. I was also despatch riding back then and after a ride to Chester and back along the motorway I could not get home soon enough to refit my Motad silencer.

I believe good road position, sensible speeds and keeping your eyes open will save more lives than a loud pipe.
30/09/2018 16:39:19 UTC
---
---